Many of my prepackaged Wedding contracts today come with what is called a Wedding Album. The wedding album has come a long way in the last ten years or so. Gone are the days of the 50 4×6 albums in an ornate album much like the ones that your parents wedding photos are displayed in. No, today's albums are truly works of art designed to do more than simply display the images from the couple's great day. They are designed to tell a story, the fairytale if you will, of this couples love and how it blossomed into the marital bliss of the wedding day. Today's albums are essential to your wedding package offerings.
Everyone has their own style and while we are photographers at heart and not necessarily Graphic Artists many times we can get by with just simple Photoshop skills to get things done. Many imaging companies today offer software to make this process easier. I have used several from several different printers for several different styles of books. I can say 1st hand that the software can range from very easy to use (beginner) to more of a moderate user level. They all offer their own version of free templates and most let you do some minor editing to those templates. Fortunately for those of us not graphically inclined there are plenty of Graphic Designers out there who have created custom templates for you to purchase to use for your photography album clients.
Some of the companies that I have used are White House Custom Color (WHCC), Miller's Professional Imaging (Miller's), Asuka Coffee Table Books (Asuka Book), Black River Imaging, and Graphi Studio, and My Publisher. All of these companies have provided quality product for me in a timely fashion. I have never had any issues that were the result of the printer. They all offer different levels of books from what I like to call the entry level album all the way to the very expensive and elegant Flush Mount or Press Printed albums. Check them out at your leisure and find one that will suit both your needs and that of your clients.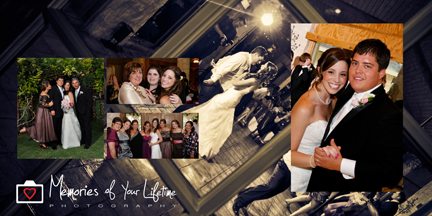 So with that in mind you might be asking yourself "Why do I need an album printer? I already offer prints, isnt that enough?" It could be, and if that is what your target audience is looking for then that will work for you. The trend in wedding photography today though is gravitating or has gravitated to these custom designed albums where you take the digital images of your clients big day and create a storybook for them to use to share with their friends and family. They are high quality, high resolution books that can stand the wear and tear that a typical wedding album would obtain. They are beautiful to look at both on the inside and outside and often times become the centerpiece of your clients wedding collection or display nicely on an armoire or coffee table. Choosing how you layout an album is something that you and your client should be on the same page about.
When I design an album, I usually ask my clients to pick out 30 – 60 images from their wedding collection that they would like to use. The more the better however, too many can detract from the goal of creating a storybook. With those images I then start to tell the story of their big day.
Giving your clients more options with their packages will help separate you from the guy the down the street and help build your clientele with easy referrals from all of the people that your clients will show their custom created album too!
*The Current Photographer website contains links to our affiliate partners. Purchasing products and services through these links helps support our efforts to bring you the quality information you love and there's no additional cost to you.
My name is Robert Hillis and I operate Memories of Your Lifetime Photography. I specialize in wedding and portrait photography in San Antonio, TX. I am an artist at heart and I love to "Paint with my Lens"! I've been shooting professionally for about 5 years but I've been doing it for fun forever! I truly love what I do and I think that shows through in my photos.
I like to tell my clients that because a wedding is truly a once in a lifetime event, what I offer them will stand the tests of time. Of all of the things that you buy for your wedding, what I offer will outlast them all. The food gets eaten, the cake goes away, the tuxedo is returned and the limo is a distant memory. The dress may stay in the closet out of view for years to come but my images, my photos, will outlast you, your kids, their kids and even their kids kids. I'm not just taking photos, I'm preserving your family history. I am capturing the Memories Of Your Lifetime!