Archive for Medium Format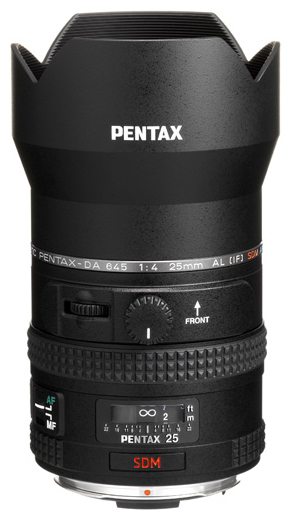 March 23, 2012 – PRESS SUMMARY - PENTAX RICOH IMAGING AMERICAS CORPORATION announced the introduction of its new DA645 25mm f/4 lens, designed and optimized for exclusive use with its popular 645D medium format digital SLR camera. By combining its ultra-wide perspective with exclusive PENTAX Super Multi-Coating (smc), Aspherical Elements (AL), Supersonic Direct-drive Motor (SDM), and all-weather (AW) construction, PENTAX has created a lens that will render super-sharp images with performance levels photographers have come to expect from original PENTAX lenses.
When mounted on the PENTAX 645D medium-format digital SLR camera body, the DA645 25mm f/4 AL [IF] SDM AW lens provides a focal length of approximately 19.5mm in the 35mm format, the widest perspective available with the 645D. Photographers now have greater creative flexibility when shooing landscapes or when photographing in confined areas with minimal room to move.
As with any quality optics, precision engineering and glass elements are critical ingredients. The DA645 25mm f/4 lens incorporates two high-performance aspherical optical elements, which provide exceptional image-resolving power with outstanding brightness levels even at the edges, while keeping various aberrations to a minimum. In addition, the lens is treated with PENTAX Aero Bright Coating to ensure an outstanding anti-reflection performance over a broader wavelength range to deliver images that are more brilliant and higher quality than those produced by previous models. Additional lens coatings and anti-reflective materials are applied to create a lens that is totally optimized for the 645D camera. Read More→