OSXcellence – Photora Review
By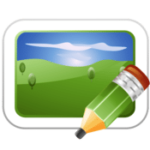 When you take a photo, what do you do with it? I imagine you upload to your Mac, tweak it in iPhoto/Aperture/Lightroom/Photoshop, and then share it in some way – either digitally or in print. Most of the time, however, you will share images digitally. But what happens when you prepare your images for sharing online? You'll no doubt resize them, and many photographers like to protect their images with a watermark. It is these two functions that Photora aims to make simple and easy, but is it just an unnecessary step in your workflow?
Photora keeps things simple; images are easily inputted via drag-and-drop, and then a minimal palette of clear controls awaits you. These are resize, watermark (both of which may be turned on and off) and file type selection.
The resize function is controlled either by percentage of original size, or by fixed width, height or size. The watermarking function is also simple, but it gets the job done. Watermarks can be text or images, and their transparency is adjustable. You can centre your watermark in one of nine positions (top-left, top, top-right, middle-left etc). The opportunity to adjust the precise location of your watermark is provided by optional spacing.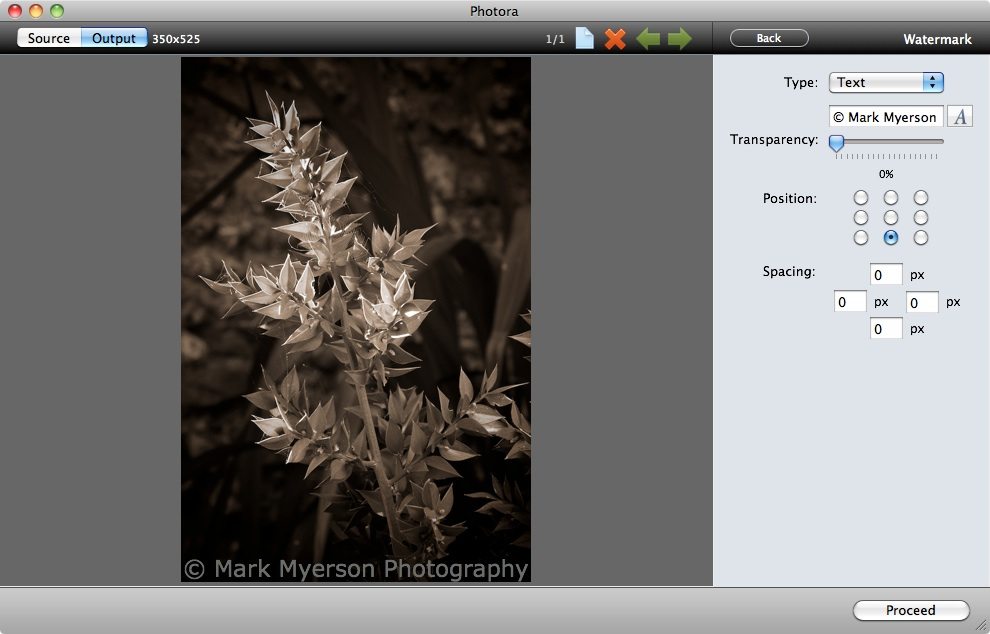 It is unfortunate that you can only output images as JPEG or PNG files, as the option to output your image as TIFF or GIF file would have been nice. The two file types Photora offers are, however, the most common file types found on the web, so Photora's restriction shouldn't pose too much of a problem.
When outputting images as JPEGs, Photora includes the option to adjust quality.
One really nice feature of Photora is the preview option. You can flick between 'Source' view (the original image) and 'Output' view (how the image will look after resizing and watermarking) at speed, Photora seemingly handling this with ease.
For owners of enthusiast/pro apps such as Lightroom or Aperture, Photora won't give you anything you don't already have. If you use iPhoto, however, I would suggest giving Photora a go. I normally recommend using as few apps as possible when processing your images, just for speed and convenience. Photora, however, does provide a watermarking feature lacking in iPhoto, and at £5.49, this app is relatively inexpensive.
You can try or buy Photora from Vistnita's website or buy Photora on the Mac App Store for $7.99/£5.49.
-


Mark Myerson loves photography, and in particular, hanging around waterfalls! Landscapes and nature have always been his staple, but he relishes any opportunity to take pictures. He also works closely with many local charities, regularly providing photographic coverage of fundraising events.
Mark is also a self-confessed tech-head and OSX lover – Apple is his favourite fruit!
Mark is the owner of Mark Myerson Photography, a Devon-based business that provides a large variety of photographic services to the local community and beyond. Whilst Mark Myerson Photography specialises in event, commercial and pet photography, almost every type of photographic assignment has been covered by the company.
If you have any photography or OSX-related questions, you can contact Mark via the links given below.

Company: Mark Myerson Photography
Email: markmyerson.photo@ymail.com
Website: http://myerson.weebly.com/
Twitter: @Mark_Myerson
Facebook: http://www.fb.com/markmyersonphoto
Photo Credit: © Mark Myerson
Here's how you can share your tips, techniques and tutorials on CurrentPhotographer.com