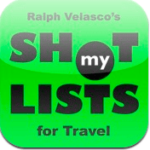 Do you shoot from shot lists? If you are a commercia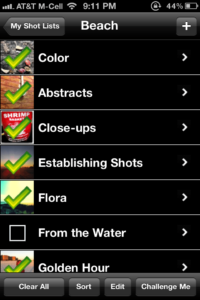 l or wedding photographer, there is a good chance that you answered yes. But what about travel photographers or those of us who like to shoot our family vacations? While it is natural to make a shot list for a product shoot or to be sure you get certain shots for a wedding, we sometimes do not think about a shot list for our travels.
But renowned travel photographer and speaker Ralph Velasco recommends the use of a shot list to assure that you get a well-rounded set of images. That is the inspiration for his iPhone and iPad application called My Shot Lists for Travel. Ralph was kind enough to send me a free coupon code for this 99 cent application as I was getting ready to leave for a quick Thanksgiving trip to the beach, so I decided to give it a try.
The app comes preloaded with a number of trips, including city, national park, safari, and town or village. You can select one and find a customizable shot list. Since beach was not a preset selection, I copied national park and added a couple of categories to make it fit my destination. The app is fully customizable so you can add your own destinations to fit your travels. Read More→