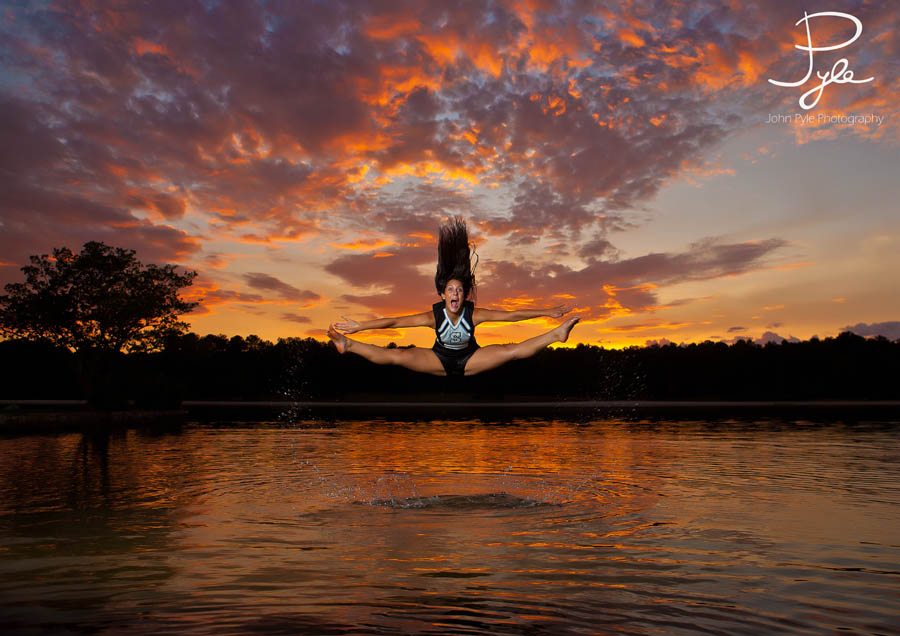 In the last article, I addressed both the importance and the enjoyment of senior photography. To me there are three things to consider before moving forward and making senior photography a major part of your business.
1) Are you LAZY? – The class of 2011 has had me lying on my back at night photographing in the middle of Times Square, dodging waves off the coast of Florida, and looking out for snakes in a creek with a senior from Tennessee. This past weekend I photographed a high school senior who flew in with her family from New Jersey. I photographed her, edited her images, and had them ready to view and order in one afternoon.
Photographing seniors and being lazy just won't work. Georgia heat in the summer is bad…factor in the humidity and it is worse. But the summer is when most of our seniors get their images made.  I am at the gym every morning for a reason. But this also adds to the excitement and the adventures of the shoot.
You cannot be lazy physically, but more importantly, you can't be lazy creatively either. Each and every senior shoot is an experience and I remember something special about each senior session we have photographed. It is your job as a professional to continue to stay current creatively no matter what. Don't just go to the same locations every time, stand by the same gazebo, or sit on the same railroad tracks. Even at these locations, it is your job as a professional to create something different at the session…a different angle, a different perspective, use different lighting, use a different lens, anything to avoid monotony (laziness).
And creativity doesn't mean going to other local photographers blogs and copying their ideas and locations. A great quote I live by states "Don't settle for average….it's just as close to the bottom as it is to the top. Take a look at your senior portrait work. Is it "average?" Did you stretch yourself creatively or did you go to that same park bench and shoot? Don't be lazy with your customers….especially your seniors. They don't deserve it and neither do you.
2) Do you really like people? – Someone is probably reading this thinking, "well…I don't hate people".  But that is not my question. My questions is do you really like people? Do you genuinely enjoy talking with people. Not just small talk but investing your time, energy, and focus into what other people are thinking, feeling, or have going on in their lives. And it is not just about being "cool" to teenagers, or trying to act younger than you are, but listening to them and being real. Also remember you aren't just dealing with 17-year olds who are getting dropped off for 20 minutes to get a few pictures made (see yearbook photographers). You are working with seniors, their siblings, their friends, their parents, step-parents, grandparents, God parents, and a few pets!!! I was talking to another photographer the other day who was heading out for a senior session. He didn't know where the senior went to school, what sports or activities she was involved in, how she and her family heard about him, or what they wanted out of their senior session. He just knew they were meeting downtown and he would just "figure it out from there". See #1 above.
If you invest your time in your senior clients and their families, they will invest in you and it will be a great experience for everyone. Again each and every senior is unique and it is your job as a professional to recognize this.
3) Are you active in your business? – Running a successful photography studio doesn't start at 8 and end at 5. That's obvious. But  I am not just talking about late night editing, blogging, paying taxes, or posting pictures on Facebook. I'm talking about being active in your community. We have seniors this year that are on the homecoming court, seniors that cheer, play football, baseball, the piano, volleyball, basketball, tennis, run track, act in plays, swim, dance, and attend drama camps. I was out on the football field most Friday nights this fall on my knees with a 70-200mm lens shooting pictures….and I loved it. Not because I was hired to, had to, or was asked to; but, because I wanted to. We love to celebrate the success of our seniors and we take that opportunity every chance we can get.  Some things to consider include partnering with local businesses, professional organizations through the chamber of commerce, and clothing boutiques. Its also a  great idea to donate sessions to charities, and silent auctions. We also are involved mentoring high school seniors who choose photography as their senior project.
These three things are important things to consider if you want to be successful with senior photography. Although they are listed separately they could fall under the same category "Don't be lazy!"
*The Current Photographer website contains links to our affiliate partners. Purchasing products and services through these links helps support our efforts to bring you the quality information you love and there's no additional cost to you.
John Pyle Photography is a full time portrait studio in Columbus, GA specializing in High School Senior Photography. They are a three time national senior portrait artist (spa) winning studio.