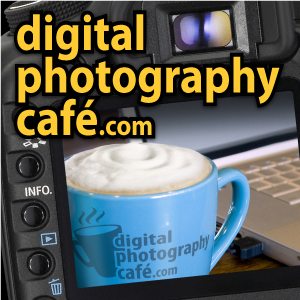 We have some exciting news to share. The Digital Photography Café podcast was just hand selected by the Apple iTunes team to be featured in their "New and Noteworthy" list under the Podcast > Arts section. In fact we were featured on the home page today and saw a nice bump in subscriptions.
After only five weeks producing the Digital Photography Café podcast we are already ranking very high in iTunes organic search. Joseph and I are blown away by the results we've been getting and we want to thank all of our listeners for making it possible. Your subscriptions, reviews and star ratings have really helped us achieve such great success so early on.
If you've just been listening to the podcast through either CurrentPhotographer.com or DigitalPhotographyCafe.com we encourage you to subscribe using iTunes or via our RSS feed. The show will be delivered automatically to your computer for FREE every time a new episode is released.
If you're new to our podcast we invite you to catch-up on the shows by visiting DigitalPhotographyCafe.com or you can listen to them right here on CurrentPhotographer.com.
Thanks again, you guys are the best 🙂
Trevor
–
*The Current Photographer website contains links to our affiliate partners. Purchasing products and services through these links helps support our efforts to bring you the quality information you love and there's no additional cost to you.
Founder of Current Photographer, co-host of The Digital Photography Cafe Show, Designer, Photographer, and overall tech geek.