If you are actively shooting (or interested in shooting) images for stock, one of the common questions that comes up when submitting stock imagery concerns image orientation. Which perform best – horizontal, vertical or square images?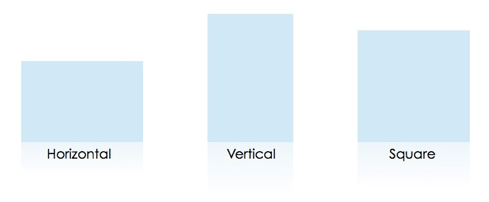 The simple answer is that horizontal formats dominate in microstock on all key metrics – views, downloads, conversion and revenue per image. The most likely explanation is that online usage of stock imagery is rising and most device form factors are horizontal (think monitor screens, blog layouts, banners, etc.)
Methodology & Sources
We looked at the best selling images for "active seniors" and for "medical" images, and we also conducted an analysis of several million microstock downloads to identify the orientation, views & downloads of the best selling images. To get the subject specific data, we conducted the same search at three of the top microstock sites (iStockphoto, Dreamstime & Fotolia) and sorted the results by downloads. The top 20 images from each site were used to generate the result set. Results are shown below:
Active Seniors
Horizontal images outperform the average on all metrics and are the most prevalent
No square images in the Top 60

Medical
Horizontal images are the most common by far and outperform the averages on all metrics
Square images have more views per image but lower downloads per image and conversion than horizontal images but outperformed the averages & vertical images in most cases.

Overall Revenue Per Image by Format in 2008*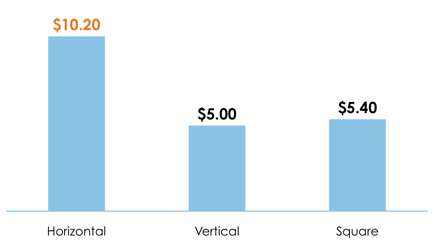 * Data across millions of transactions and all subject groups
Conclusions
If you only submit one orientation, horizontal formats are the key
If you're licensing stock imagery online, you should be submitting all three formats. Photographers tend to have a favorite shooting orientation and while this is great, it's important to branch out.
If you submit to microstock sites, submit all three orientations.
–


We are a Seattle-based company focused on helping stock photographers to increase their earnings and freeing them up to spend time creating more images. LookStat provides software and services for microstock contributors and agencies. We provide analytics, keywording, retouching & uploading.
Phone: 206-569-5321
Email: rahul@lookstat.com
Website: https://www.lookstat.com
Blog: http://blog.lookstat.com
Twitter: @LookStat
Facebook: http://facebook.com/LookStat
Rahul and the team at LookStat created a FREE e-book that you might be interested in titled "Microstock for Rights Managed and Royalty-free Photographers". Be sure to check it out.
Here's how you can share your tips, techniques and tutorials on CurrentPhotographer.com
–
*The Current Photographer website contains links to our affiliate partners. Purchasing products and services through these links helps support our efforts to bring you the quality information you love and there's no additional cost to you.