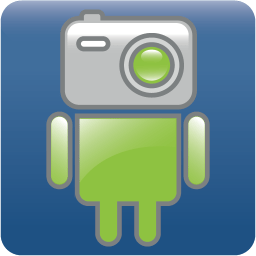 Both the fortunate and unfortunate thing about smart phones (esp. Droids) is there are tons and tons of apps out there. So far as photography goes, I have not found an app that does everything (yet!)
This week I am going to tell you about and review the features of an app called Photoaf. It strictly does one thing…makes panoramas. I have been looking for a good panorama app since I moved from my Envy3 over a year ago to the Droid.  As the Envy3 has a built in panorama feature.
Once you install and launch the app, the menu is pretty simple and the app is very easy to use. The menu and controls are rather straight forward which is always a good plan. Making the panorama takes a bit of practice but it turns out pretty good, more on that later.
When launching the app you are presented with a menu with 6 main buttons and two smaller buttons for "help" and "about". Lets go through the function of these buttons.
The first button starting from the top left says "Create Panorama". If you click this button a new window pops up and asks you to give a file name to your panorama. A default one is generated and you can use it or erase that and create your own. Once you have come up with a name for your file, the camera window will launch which is very similar to your default camera on the Droid, with some helpful additions.
You will notice in the top center of the screen there is a yellow bubble level giving you the horizontal level of the picture. On the middle right of the camera window you will notice a red bubble level that gives you vertical level of the picture. Both of these will come in handy to create good looking panoramas.
You also at this point probably have another pop up window that says use automatic picture taking. So far, I have been clicking yes and it seems to be working well. Choose the spot you wish to begin taking your panorama from and the app will automatically snap a photo. It will give you directional arrows and will also beep to help you line up the shots. You can take a panorama from as few as two shots to as many as it takes to go in a complete 360 degree turn from your first shot. Once you have taken the required photographs, the app will process the panorama which usually takes a couple minutes at most. If you do a complete 360 rotation the app will automatically place the images together for you if you do less than 360 degree you need to hit the stitch images button which will put them together for you.
Once the photo has been stitched you can view it by using the touch screen to rotate it or use what is called compass mode to "turn" the image similar to a compass bezel. You can also upload it to the social media site of your choice, choose a normal or high quality image view, view it on a map, or restitch it if you want all by pressing the menu key on your phone. Note: to view the image on a map your GPS must have been turned on while taking the photos.
The button below "Create Panorama" is pretty self-explanatory as it is marked "Delete Panorama". Once you click this a gallery of panoramas you have taken is brought up and you can touch the one you want to delete. As per usual a window will pop and ask if you are sure. If click on "Upload Panorama" you will again be brought to the gallery and once you make your selection of which one to upload it will upload to Photaf.com. If you want to share via bluetooth or social media simple select the panorama from the gallery and upload it to the site of your choice. "Load Panorama" will load a saved panorama from the gallery so that you may view or it view thru other options as mentioned in the above paragraph. "Settings" is simply that, the settings menu for broad application functions such as geo-tag, auto focus, etc. The last large button is "Web Gallery" which will take you to the Photoaf.com web gallery and show you and any images you have uploaded. The "help" button is a basic guide to using the app and the "about" button gives you version info and how to get in touch with the app programmer through his blog. How about a couple images I was able to take and then we can wrap it up.

First attempt…

2nd attempt
3rd attempt a complete 360 stitch!
The app overall is very easy to use and very well designed. However, keep in mind when you email the image or put it on facebook or twitter for example, it will be hard to see the detail. The best view is what you get in the app itself which is pretty cool overall. Especially for an app thats 100% free. Hope you enjoyed reading and we will see you next week!
*The Current Photographer website contains links to our affiliate partners. Purchasing products and services through these links helps support our efforts to bring you the quality information you love and there's no additional cost to you.
I am half outdoorsman and half technonurd hence my name thenaturenurd. I live in Texas with my wife, Melynie, 14 year old son, Cailean, and our four cats. I've been interested in photography since High School and mostly take landscape photographs but have also ventured into other areas of photography. My photography idol of course is Andel Adams, he did fantastic work. As a gadget nut, I hope to bring you clear concise reviews of Android photo applications and maybe even some tips for landscape photography. I look forward to the interactions…