April 5, 2011 – PRESS SUMMARY – The Epson Stylus® Pro line of printing solutions is expanding once again with a wider selection of Designer Edition bundles that combine award-winning Epson Stylus Pro printers with an industry-leading EFI™ eXpress for Epson Software RIP. These bundles are engineered to deliver powerful yet easy-to-use solutions for professional graphic designers and photographers, enabling them to print their creative visions as they see them. The Epson Stylus Pro 4900 Designer Edition is now joined by the Epson Stylus Pro 3880, 7890 and 9890 Designer Editions.
The combination of these printers and the EFI eXpress for Epson RIP gives users the unique ability to create color accurate CMYK comps, proofs, and mockups, alongside RGB photographs. The software includes sophisticated yet simple to use spot color support with embedded libraries for DIC, HKS, PANTONE, and Toyo, ensuring accurate color production out of the box. True Adobe interpreters allow for complete compatibility with the latest design suites on a Mac or PC.
In addition, users can work the way that suits them best by printing directly from the application, importing or dragging and dropping on to the RIP interface, or by sending files from a single PC or in a networked group to hot folders. Full support is included for all Epson proofing, packaging, photographic, and fine art media, with the ability for the user to add new CMYK or RGB profiles for additional media types.
Pricing and Availability
All four Epson Stylus Pro Designer Edition bundles are now available through authorized Epson Professional Graphics resellers at the following prices (MSRP) with additional mail-in rebate offers:
Epson Stylus Pro 3880 (17-inch) Designer Edition — $1,495 ($1,195 after $300 mail-in rebate)
Epson Stylus Pro 4900 (17-inch) Designer Edition — $2,995 ($2,495 after $500 mail-in rebate)
Epson Stylus Pro 7890 (24-inch) Designer Edition — $3,495 ($2,745 after $750 mail-in rebate)
Epson Stylus Pro 9890 (44-inch) Designer Edition — $5,495 ($4,745 after $750 mail-in rebate)
Each Epson Stylus Pro Printer is supported with a standard Epson PreferredSM Limited Warranty, a one-year program that includes toll-free advanced telephone access Monday through Friday and usually next business-day on-site service in the unlikely event of any hardware failure. Epson Preferred Plus service plans are available that cover both the hardware and software for up to two additional years. For additional information, visit www.proimaging.epson.com.
Check out the below video where Chase Jarvis talks about his experiences with the Epson Stylus Pro 9890.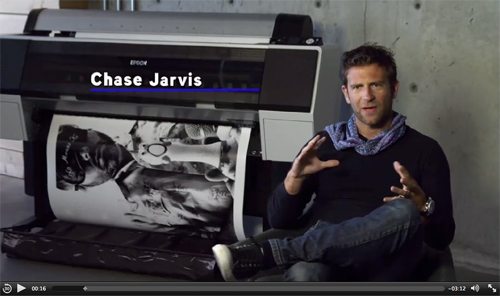 –
*The Current Photographer website contains links to our affiliate partners. Purchasing products and services through these links helps support our efforts to bring you the quality information you love and there's no additional cost to you.
Founder of Current Photographer, co-host of The Digital Photography Cafe Show, Designer, Photographer, and overall tech geek.