Welcome to week seven of the Friday Business Challenge bought to you by Current Photographer and Today is Different. Not sure what The Challenge is about? Click here to find out: Welcome to the Friday Business Challenge.
So how did you go with last week's challenge? Did you do it? Don't worry if you haven't yet, just go back and do it any time before the challenge ends.
So on to week number seven.
Goal Setting and the Next Seven Weeks

The Challenge & the Reward
We want to see you succeed in your photography business. Participating in the 7 weeks of challenges will help you focus on taking action towards making your business the best it can be.
Sharing your experiences with others is also a great benefit to the community, so we want to hear from you. Tell us how you did with the weeks challenge in the comments below. In return we want to give you a little promotion (and who doesn't want that?) Be sure to include links to your website, blog, Twitter profile, Facebook Page, LinkedIn and any other profile you'd like to share with the community.
We'll select the best, most thought out comments to be featured in next weeks challenge along with a post on the Today Is Different blog. Just think of all those wonderful links you'll get to help your SEO!
As an additional incentive we are offering you a chance to get one of your favorite photographs featured at the top of CurrentPhotographer.com. We'll include your image, your name or company name along with your website url. When the graphic is clicked the viewer will be taken directly to your website. Nice way to get a little extra attention huh?

So how do you get your image featured you ask? It's simple, just click the "Tweet & Get It" button below. You'll automatically tweet the special phrase and get immediate access to a free e-book that Trevor has put together titled "How to Pimp Out Your Twitter Profile in 4 Easy Steps".
We'll pick 4 random Twitter followers who tweet the special phrase and send them a Direct Message with details on how to submit their photo and information.
At the end of the 7 weeks we'll have a special gift for all those who participated and commented. Trevor and I have put together a couple of great e-books that we'd like to give to you for FREE just to say thanks.
So keep participating in the challenges, keep the comments coming and share your accomplishments with your friends on Twitter and Facebook to let them know "you're in it to win it!"
*See "The Challenge and the Reward" above for more details.
–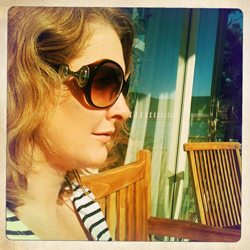 I am a portrait photographer and a workshop facilitator. I am passionate about what I do and thrive amongst people who are innovative and love what they do. I am in my element in the midst of conversations where ideas are spread and opportunities are discovered.
Today is Different provides workshops, retreats and consulting for professional photographers in Sydney, Australia.
We help you to:
Find your uniqueness and your fantabulousness
Stop selling products and services and start providing
an experience
Find clients that you love and that love you right back
Simplify by focusing on what is truly important

Company: Today is Different
Phone: +61 403 500 801
Email: robyn@todayisdifferent.net
Website: http://www.todayisdifferent.com.au/
Blog: http://www.todayisdifferent.com.au/blog
Twitter: @RobynMayne
Facebook: http://facebook.com/TodayIsDifferent

© 2017 Robyn Mayne
Here's how you can share your tips, techniques and tutorials on CurrentPhotographer.com
–
*The Current Photographer website contains links to our affiliate partners. Purchasing products and services through these links helps support our efforts to bring you the quality information you love and there's no additional cost to you.