This is the first in our series looking at different marketing campaigns for photographers.
If you have any campaign ideas or suggestions then please use the comments or email me at info@photocreative365.com.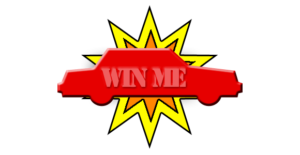 Marketing Campaigns for Photographers #1 Win a Car!
I first came across this campaign at a Mitche Graf seminar at last years' SWPP convention here in London. The campaign Mitche recalled was forwarded to him from a US based photographer who specialized in senior portraits.
After a nasty divorce all the photographer was left with was a classic convertible (I forget which make). Short of cash (and business) the photographer realised that something drastic was needed….. This is where the 'Win a Car' campaign began…..
The Campaign
A list of graduating seniors was brought by the photographer.
He then had hundreds of car keys made (one of which fit the car).
The photographer then sent out a promotional letter to each of the seniors on the list.
The Offer
Every senior who has their portraits taken and spends over $xxx has a chance to win the car.
The promotion finished at the end of the summer with a party and BBQ. Each senior could then try their luck with their key.
Was it successful?
Yes and no. The photographer made one vital mistake…. he didn't know who had the key! From what I recall the photographer generated $250,000 from the promotion….. so I guess that's what you call a pretty successful campaign.
Changes
You can of course do this promotion with lesser prize but I would suggest that the bigger the bait on your proverbial hook… the bigger the catch! This can be done with other portrait subjects if you can get hold of a list to market to.
This campaign is really about the numbers you can get through the door so I wouldn't recommend it for wedding photographers…… unless you want to shoot a lot!
There are a couple of ways you can do this on a smaller scale:
A cheaper prize like an iPad is an obvious choice.
Market only on Facebook. You would need to have some connections already made for this to work though.
Team up with other photographers in your area….. a cost shared is a cost halved!
What makes it work so well?
This campaign worked well for two particular reasons:
It was an awesome prize that every senior would want.
Receiving the key made the possibility of actually winning the car seem possible. If the photographer had sent out letters or flyers I don't think it would have had the same impact.
–
Notes
Use these section titiles to help create your own campaign.
Alternatively you can download and print out our action plan sheet:
Download Photographer Marketing Campaign Action Plan Sheet
Campaign Title
Win a Car
Description of Campaign
Every senior who has their portraits taken and spends over $xxx has a chance to win the car.
Target Market
Seniors
Target for Campaign
Senior sales to reach $250,000 for the year.
or
To generate 10 times the spend on the prize and marketing materials.
Time Frame  – Set Up
Time to organize marketing list and mail outs.
Time Frame  – Campaign in Action
Campaign to be launched in the spring and run till late summer
Costs – Set Up
Cost of prize and marketing material
Costs – Ongoing
There is a possibility of using newspaper ads for ongoing promotion but it's possible to received this for free if the prize is good enough
Tracking
Each senior is asked if they have a key at time of first contact.
Feedback
A Facebook fan page could be created for feedback and to announce which seniors are in the running for the big prize. Facebook is perfect for this target market so I would suggest sharing preview image here too.
Other Companies/People involved
A company to buy a senior list from.
Other Campaign Notes
This can be an extremely risky campaign and it does rely on being able to buy a big enough prize and big enough list of names and addresses.
*The Current Photographer website contains links to our affiliate partners. Purchasing products and services through these links helps support our efforts to bring you the quality information you love and there's no additional cost to you.
Michael has been working as a photographer for the last ten years. In that time he has shot over 100,000 peoples' portraits and worked in four different continents. In 2001 Michael graduated with a degree in photography from Manchester Metropolitan University.