Most of us take photos of family, of our holidays, or big events, and these photos hold many memories, hence you want to share them. You upload them to Flickr or Facebook, you email them to your friends, and you might even get a few prints done for your Nan. But since the invention of the slide projector, no other way of exhibiting pictures has been as enthralling as a slideshow.
iPhoto, all-rounder that it is, has a fine slideshow builder, which is getting better with every edition of iLife. iPhoto's effort, however, isn't comprehensive, and so there is room for other apps to fill the void. Xilisoft Photo Slideshow Maker is one such app, but is it the offering you should invest in?
Xilisoft doesn't trump iPhoto on looks – it's a very 'PC looking' app. Looks, of course, aren't everything, however, and Xilisoft is pretty slick at loading pictures. Once you've chosen the photos you want to use, Xilisoft provides a fairly simple route to slideshow. After arranging the order of your images, you can adjust the length of time each photo is displayed, and the transition length between photos, in milliseconds. You can also control which transition styles are used (although the possibilities in this area are rather limited when compared to iPhoto's range), and whether you want a Ken Burns-style zooming effect.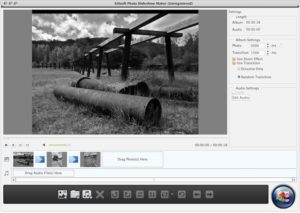 Audio control is good in Xilisoft. Drag in an audio file, and you can use it to accompany your slideshow. You can also edit the audio – loop it, adjust the start and end points for the music and more. These music controls put Xilisoft somewhere between iPhoto and iMovie in terms of control.
One other area of note is Xilisoft's seemingly never-ending list of video formats, in which you can export your slideshow. Ideally, slideshows are best displayed by the app which created them, but the exhaustive list of export options in Xilisoft means that you can fit your slideshow onto your iPhone with ease.
Overall, I feel Xilisoft is a very solid piece of software, and it serves its purpose well. With every Mac owner having access to iPhoto, however, I'm not sure Xilisoft has enough features to make me want to ditch iPhoto's slideshow creation.
You can try or buy Photo Slideshow Maker via Xilisoft's website ($49.95).
*The Current Photographer website contains links to our affiliate partners. Purchasing products and services through these links helps support our efforts to bring you the quality information you love and there's no additional cost to you.
Mark Myerson loves photography, and in particular, hanging around waterfalls! Landscapes and nature have always been his staple, but he relishes any opportunity to take pictures. He also works closely with many local charities, regularly providing photographic coverage of fundraising events.
Mark is also a self-confessed tech-head and OSX lover – Apple is his favourite fruit!
Mark is the owner of Mark Myerson Photography, a Devon-based business that provides a large variety of photographic services to the local community and beyond. Whilst Mark Myerson Photography specialises in event, commercial and pet photography, almost every type of photographic assignment has been covered by the company.
If you have any photography or OSX-related questions, you can contact Mark via the links given below.