May 15, 2010 – PRESS SUMMARY – PENTAX Imaging Company announced that the PENTAX K-x digital SLR camera, first launched in October 2009, received a Technical Image Press Association (TIPA) award for Best DSLR Entry Level in Europe 2010.  The award attributes the camera's well-balanced combination of advanced features and exceptional basic specifications in a compact, lightweight and maneuverable digital SLR body.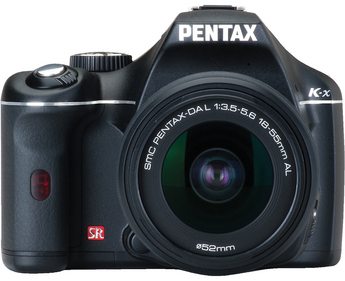 TIPA is an independent, non-profit organization of the chief editors and technical editors of 29 leading photo and imaging magazines in 13 countries. It annually selects the most distinguished products in several different categories. This year, the PENTAX K-x received the highest rating in the Best DSLR Entry Level in Europe category.
In its selection of the K-x, TIPA noted that, although the K-x is a compact, lightweight entry-class model that provides an array of advanced, user-friendly features, including approximately 12.0 effective megapixels, a dust-removal function, an in-body shake-reduction system, movie recording capability, a top shutter speed of 1/6000 second, and a sensitivity expansion function that raises the highest sensitivity from ISO 6400 to ISO 12800.
The organization noted that, "the attractive price and a respectable technical content are well combined for pleasant picture taking," allowing users to "discover the delights of the SLR camera system."
TIPA will hold the award presentation ceremony on September 21, 2010, the opening day of Photokina, the world's largest photo and imaging systems trade fair, to be held in Cologne, Germany.
The Pentax K-x with 18-55mm Zoom Lens is available from B&H Photo for around $513.99. It is available in other body and lens kit combinations. In addition to the black body color, it's also available in white, red and blue.
If you're interested in purchasing this camera we would love for you to use our affiliate link above.
There's no additional cost to you and you'll be supporting the CurrentPhotographer.com community.
The small commissions we receive will help offset our costs allowing us to continue delivering the great content you love.
–
*The Current Photographer website contains links to our affiliate partners. Purchasing products and services through these links helps support our efforts to bring you the quality information you love and there's no additional cost to you.
Founder of Current Photographer, co-host of The Digital Photography Cafe Show, Designer, Photographer, and overall tech geek.