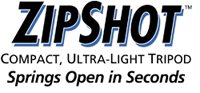 The ZipShot tripod from Tamrac, Inc, is a compact, ultra-light tripod that's small enough to fit in a bag or backpack, yet strong enough to hold a camera and lens combination of up to 3 lbs. I recently received a review unit from Tamrac to test and put through its paces. Overall I was pleased with its ease-of-use, portability and sturdy construction and for a $50 street price it's worth considering for your travel photography.
Below is my full review of the ZipShot Tripod.
Check out B&H Photo and Amazon.com for their latest ZipShot tripod prices.
–
*The Current Photographer website contains links to our affiliate partners. Purchasing products and services through these links helps support our efforts to bring you the quality information you love and there's no additional cost to you.