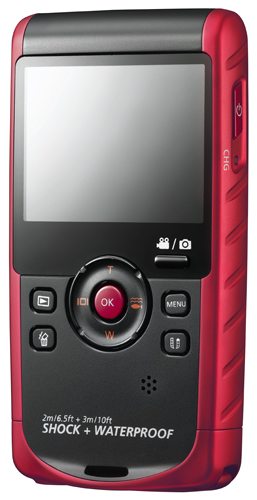 April 22, 2011 – PRESS SUMMARY – Samsung Electronics Co., Ltd, announced the launch of its W200 Pocket Cam. The W200 is designed so it can be taken anywhere to capture brilliant video in the toughest conditions, particularly underwater, thanks to features such as a 5 megapixel BSI CMOS sensor and F2.2 Bright Lens. Created for those whose active lifestyles demand both durability and quality, it houses Samsung's leading imaging technology in a shock, water and dust-proof rugged body.
The W200 is built to withstand the elements to produce high-quality video in almost any circumstance and thanks to specialized functions, it makes brilliant underwater video easier to achieve than ever. It is waterproof up to three meters, making it suitable for great video of a relaxed day by the pool or even up-close shots of coral reefs. The W200's anti-water drop coating also means that the LCD screen will stay free of condensation, even in damp conditions, so you can film without wiping the screen. The lens also features anti-fog coating that lets steam disperse so you always have clear, blur-free videos and pictures even straight after coming out of the pool. To make capturing amazing underwater footage simple, the W200 also includes an Aqua Mode setting, which automatically sets the ideal parameters for the bright and clear underwater video. Despite being slim and compact, it is also shock-proof and dust-proof and so is the perfect addition to a backpack for any trip and robust enough for worry-free family vacations with young children. Because the W200 is designed to be taken anywhere, it also comes with a built-in USB arm to make it easy to share your adventure.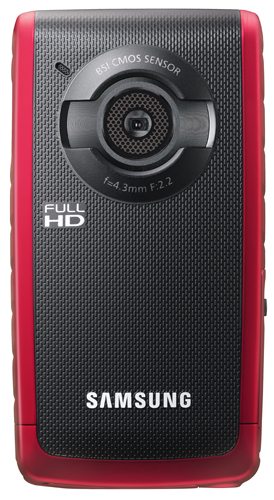 —————–

Innovative Samsung technology ensures that filming on-the-go never means a loss of image quality or brightness. The W200 is built with a 5-megapixel BSI (Back Side Illuminated) CMOS sensor, which delivers double the sensitivity of previous CMOS sensors, capturing footage with dramatically reduced image noise and distortion. Along with this, the W200 includes a bright F2.2 lens to give users the ability to shoot during low-light conditions for stunningly clear, sharp, blur-free images. The camcorder shoots in Full HD resolution to let you capture every moment in rich, dynamic detail and displays your video on a 2.3" 230K clear pixel LCD screen.
In addition to delivering high-quality video, the W200 makes it easy to both manage your video files and be creative with them too. With Samsung's Record Pause feature, users can pause briefly during filming and then resume from the exact same moment. When filming is complete, footage will all be in the same file, removing the need to merge them and making uploading and sharing hassle-free. To have more fun with filming, whether at the waterpark, on a rollercoaster or just capturing a special family moment, the W200 has two special Smart Filter features. Vignetting allows users to fade the edges of shots and the Fish-Eye setting creates an arty, distorted feel for unique and interesting footage.
The Samsung W200 will be available in May for a suggested retail price of $159.
–
*The Current Photographer website contains links to our affiliate partners. Purchasing products and services through these links helps support our efforts to bring you the quality information you love and there's no additional cost to you.
Founder of Current Photographer, co-host of The Digital Photography Cafe Show, Designer, Photographer, and overall tech geek.