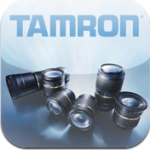 I usually do not review apps that are basically advertisements for a particular company, except when the app contains useful content. Such is the case with the Tamron App. So if you were a lens company what would you include in your app? Don't waste your time thinking about it because you won't think of everything that Tamron included. Here's the rundown:
Tamron Products – This is the one you should expect. Select from menus for All-in-One Zooms, Fast Zooms, Wide & Tele Lenses, and Macro Lenses.
Local Events – Shows events in which Tamron participates.
How To Videos – This section includes a good number of videos regarding shooting with Tamron lenses.
How To Articles – Likewise, this section contains a good selection of articles on anything from "Shooting an Outdoor Concert" to "Using Lenses for Video".
Photo Contest – Includes details for any contests that Tamron is running at the time.
Get Social – Provides links to Tamron on Facebook, Twitter, Tamron Blog, My Photo Exhibits, and Flickr.
Get ENews – Where you can sign up for the Tamron E-News.
Find A Dealer – Gives you the opportunity to find a dealer using Google Maps.
Rebates – Shows current rebate offers.
Scan – This is a surprising one. A QR Code reader is included as part of the app.
Register Lens – Allows you to register your Tamron lens online.
Brochures – Allows you to view PDFs of Tamron brochures on your device or enter your email address and they will send you a PDF catalog to download.
CCTV – In this section, you may view Tamron's CCTV line.
Service and Warranty – Instructions and contact information to track your repairs and warranty are available in one place.
Contact Tamron – Includes contact information for Tamron.
And more…
So while I don't usually review this type of application I can see that there are a number of useful tools in this app. It's free, and is worth a look especially if you use Tamron lenses.
All the best…Mike
*The Current Photographer website contains links to our affiliate partners. Purchasing products and services through these links helps support our efforts to bring you the quality information you love and there's no additional cost to you.
A college administrator by profession, Mike Kennamer enjoys the opportunity to take photos and improve his skills by shooting events at work, church, and for friends. He enjoys landscape photography, portraiture and is starting to dabble in HDR. His current photography project involves learning to control flash manually. "My goal", according to Kennamer, "is to be the best photographer I can be."
Kennamer is also the President of Kennamer Media Group, Inc., a provider of traditional and online media, specializing in the healthcare industry. On CurrentPhotographer.com he writes about iPhone and iPad applications for photographers.