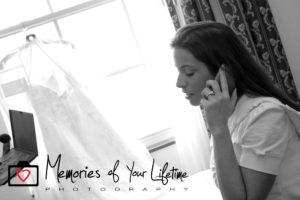 So often in wedding photography we tend to overlook some of the smaller events of the day. Whether it be the grooms preparation because we only have one photographer or maybe the departing shots of the couple because of contract time limitations. All of the events of the day are important and for a bride and groom trying to remember specific moments of the day later in life can be difficult. There is so much emotion, so many family and friends to meet and talk to, so many places to be and schedules to follow that they tend to lose focus of the minor moments and they become erased from memory. I myself think back now and have a very vague recollection of preparing for my own wedding, what I was doing immediately before the wedding, and a lot of the reception is fuzzy and not because of any alcohol. There is just so much to focus on that you tend to just remember the big ticket items of the day.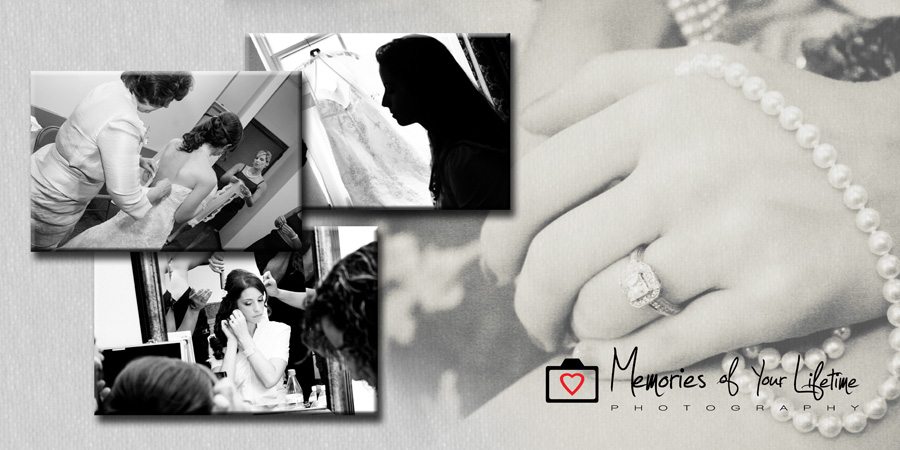 This is where you as a wedding photographer get to play the superhero. It is your job to capture these fleeting moments in time so that you clients can relive these nearly forgotten memories in a way maybe they didn't recall.
Wedding preparation photography can be one of those areas where it may seem a small part of the day and can actually wind up being a major part of the couple's wedding album. When a bride and groom are preparing they are
going through the emotions of the few moments they still have as single people only to soon become man and wife. They often are distracted, nervous, excited, and emotional. Their family comes in one after another to say their piece and to offer congratulations before their ceremony. There are lots of great opportunities for us to capture some truly photojournalistic moments during wedding prep.   Some of the things that I like to capture are the bride getting her makeup done, the wedding dress by itself, the rings, the bouquets and boutonnieres, and the shoes, you can't forget about the shoes!
The bride is usually the last of the bridal party to get their makeup done. Everyone else has had a chance to cycle through and now the bride is able to finally sit down, be still, enjoy a glass of wine and have a moment to herself while her stylist works to make her a princess. Capturing these moments can be truly memorable because they tend to remind the bride of what she was thinking at the time, what she was focused on and the feelings she felt while sitting there. Capturing her while also capturing elements of the wedding in the same shot, say the rings, wine bottle, or dress can make for some truly moving photos.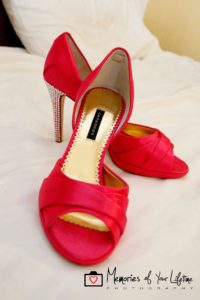 The dress is one of the most important elements to capture during wedding preparation. Brides have shed blood sweat and tears (not to mention a few pounds) to find the perfect dress that they can look as beautiful as ever in on their wedding day. They want to show it off both on and off of them. Capturing the dress in natural light is the best. Try creating a "dreaminess" with your ambient light giving the dress a near glowing affect and you will find that it will soon be one of your wedding couple's favorite images from their album. Focus on the details of the gown and not just the full length shot. Often times getting creative pays off dividends later.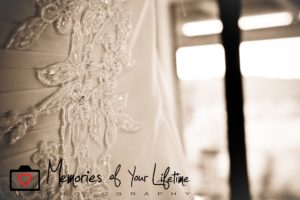 The shoes. Many, many times the bridal party has spent countless days, several tanks of gas, and hundreds of shopping hours scouring every boutique, rack, and department store searching for the perfect pair of shoes not only for the bride but for the bridal party as well. As men we tend to overlook this little accessory as our shoes come in about 3 different styles and are usually almost always black. The bridal shoes though can be very different, very unique, and very much a reflection of the individual. Capturing those images during wedding prep can mean the difference between hitting the ball and hitting the ball out of the park.
I know, it's a lot to take in and we haven't even discussed the guy's side yet. I'll spread my words of wisdom in my next post on that. Until then, happy shooting!
*The Current Photographer website contains links to our affiliate partners. Purchasing products and services through these links helps support our efforts to bring you the quality information you love and there's no additional cost to you.
My name is Robert Hillis and I operate Memories of Your Lifetime Photography. I specialize in wedding and portrait photography in San Antonio, TX. I am an artist at heart and I love to "Paint with my Lens"! I've been shooting professionally for about 5 years but I've been doing it for fun forever! I truly love what I do and I think that shows through in my photos.
I like to tell my clients that because a wedding is truly a once in a lifetime event, what I offer them will stand the tests of time. Of all of the things that you buy for your wedding, what I offer will outlast them all. The food gets eaten, the cake goes away, the tuxedo is returned and the limo is a distant memory. The dress may stay in the closet out of view for years to come but my images, my photos, will outlast you, your kids, their kids and even their kids kids. I'm not just taking photos, I'm preserving your family history. I am capturing the Memories Of Your Lifetime!