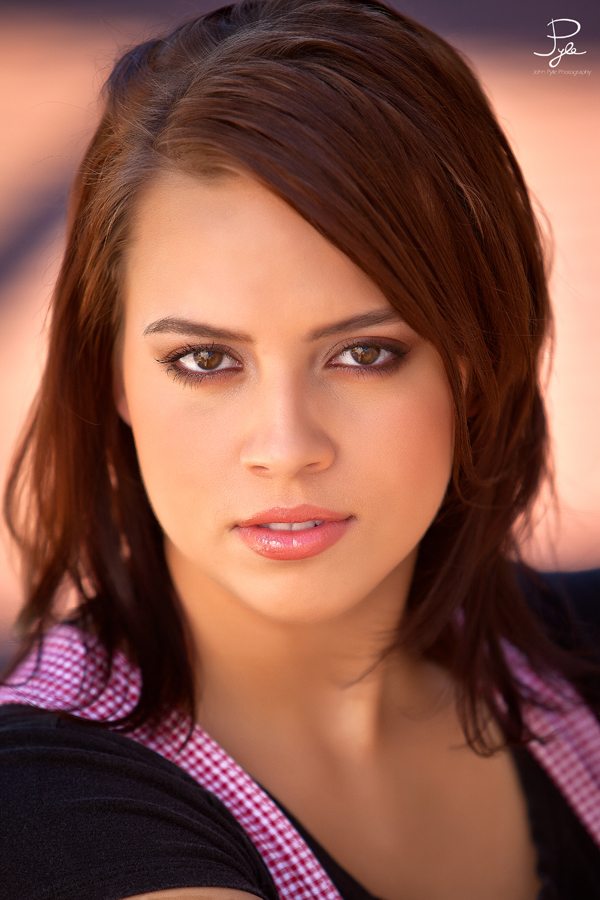 Recently I spoke at a local photography workshop and  someone made a comment that it has to be easy shooting only "pretty people". Another photographer jokingly communicated to me that it "wasn't fair" that we got to photograph all the "attractive people". To that I laugh and say I'll take that as a compliment. I do have to say that every one of the seniors that we photograph is beautiful…inside and out. But some people don't understand that most of the senior girls do not walk around looking like they do for their senior session…just as a bride doesn't walk around everyday looking like she does on her wedding day.
I think as a professional photographer that it is your job to find what is "beautiful" about your clients and focus in on that for their images. That can be their eyes, their hair, their smile, their laugh,…anything that makes them look good and feel good about themselves. That can only HELP you in creating images the senior and their families  can be proud of.
At our studio we do go all out to make people look their best and feel their best for their senior session. Our customers deserve it…and we demand it. Which is why we incorporate the use of a professional makeup artist on our senior sessions. This, I believe, has really separated our work and the experience shared by our customers. No one has "perfect" skin. It can be splotchy, red, sunburned, and/or uneven. I cannot tell you the time I have saved in LightRoom and Photoshop from having a quality makeup artist.
I have also recently gotten a few emails from other photographers asking about using a makeup artist, how we incorporate it in the session, and what does the makeup artist do on the shoot. So I thought I would use this article to interview Stephanie Kelly of S.Kelly Makeup to answer a few questions. She has worked with us for two years and knows how I like to shoot and what looks I like to shoot for our sessions. And yes… I am glad that everyone thinks we are "lucky" to only photograph the "beautiful people" Thanks for the compliments to our work and our seniors!  🙂
What is your background and specialty in makeup?
I have been involved with make up since I was 17. I started modeling and began to learn how to apply makeup for the camera as well as runway shows. At age 30 I took a break from the industry, but only a few short years later I found myself wanting to be a professional makeup artist full time. I made the decision to change direction in my career and attended Cinema Makeup School in Los Angeles, California under the Master Makeup Program. I specialize in all aspects of makeup applications: TV/Film, Special Effects, Beauty, High Fashion, Editorial, Senior Models, and Bridal/Weddings.
What do you look for in working with a photographer?
When I am hired for a job, I always ask who the photographer will be so I can research their work. As a makeup artist, you want to see the light they use and the style of photography so you can prepare yourself for the photo shoot.  Once you're on the shoot, it's vital to communicate with the photographer on the style of makeup that is needed. Professionalism, the ability to be creative, and having fun are the most important aspects to a photo shoot between a makeup artist and photographer.
What are the goals for the senior makeup session?
Makeup applications are different with every senior. You will have some seniors that want to take their senior session geared towards the fashion side and other seniors will want to look like "themselves" in their photos. My goal is to make each senior look their absolute best on such a memorable day. I communicate with the senior and ask what look they are going for and if they have any examples of makeup they like. I take into consideration their ideas but also bring my knowledge and vision to the makeup. As a makeup artist, you have to know when to step in and give what you think would look best even when the senior has a set idea on what she wants. I want the makeup to look professionally applied but also fun and creative to each senior's request. My ultimate goal is to have each senior look in the mirror and be in awe. I want them to look their absolute best! When a senior  feels like they look stunning and beautiful, the end result says it all….beautiful senior photos that will last a lifetime.
What are the mistakes that are seen with senior photography makeup?
Uneven skin tone, mismatched skin tone, wrong color choices, and what I like to call flat makeup: no shadowing, contouring, highlighting or luminous makeup applied, but the number one mistake is taking a senior model and experimenting with makeup on her photo shoot. You have to be creative and fun, but taking it too far is disturbing to look at. A senior shoot isn't the time to invent a new eye shadow technique or have the model wear green lipstick. From time to time, you will have a senior model request a high fashion look to incorporate into their session. I think it's a great idea, but save it for the last look! What you don't want is to lose the natural look of senior model and at the end of the shoot, she's unrecognizable. Yes, be creative. Yes, be fun with your ideas, but always remember as a makeup artist you have to know when to bring back the reigns a little.
What do you enjoy the most about makeup with senior sessions?
Being a part of their senior photography experience is enjoyment enough. It's wonderful to see them from being extremely nervous at the beginning and when the makeup is revealed they are so confident and excited. To see each senior view themselves in a beautiful light is my enjoyment and that's when I know I did my job well.
*Stephanie Kelly of S.Kelly Makeup is a professional makeup artists located in Columbus, GA where she specializes in fashion, portrait, wedding, and beauty photography along with TV, film, and special effects.
*The Current Photographer website contains links to our affiliate partners. Purchasing products and services through these links helps support our efforts to bring you the quality information you love and there's no additional cost to you.
John Pyle Photography is a full time portrait studio in Columbus, GA specializing in High School Senior Photography. They are a three time national senior portrait artist (spa) winning studio.