Let me start by introducing myself. I'm a 30-something IT architect who lives in the densely populated west part of the Netherlands. I've been passionate about photography ever since my late teens and found my passion rekindled when I moved to a Nikon DSLR in 2005. The last 18 months or so I've been really into nature and wildlife photography and I want to share my passion and some of the things I've learned with you.
Even though I live in an incredibly densely populated area I am fortunate to have a small nature reserve at a 15 minute drive from my home. It's an area that I like to visit at least weekly for a nice walk with my camera. Because that area is rather small and my time is limited I have decided to call my style of photography casual to distinguish what I do from the work of people like Thom Hogan, Moose Peterson or Brad Hill or any of the dozens of photographers who have access to immense areas of nature and the time to spent hours or even days to get that one stunning shot. I do not have the time (or, to be honest, the inclination) to spend hours or days in a hide 60 miles from anywhere. I also do not have the budget to buy a 600mm f4 teleprime and the matching tripod. Instead I will have to make due with an hour or two here and there in nature reserves within 3 hours driving of my home. I am shooting with a humble 70-300 on a Nikon D300. I Intend to show you that even in this limited way you can have fun and still shoot nice pictures.
The camera
Although it is possible to shoot wildlife and certainly nature and landscapes with a high end compact I have almost no experience with such cameras. I do have a lot of experience with DSLR cameras so I will talk about those.
Nature as in landscapes can be done with almost any camera. You will have the time to carefully compose your shots and your subjects will not move much if at all. Any DSLR with the kitlens will do nicely for this. Wildlife is another matter, for that you want reach and loads of it. Forget the 18-55, that will at best give you a lot of landscape with a few animals in the distance. No you want a long lens, the longer the better. For most platforms there is a perfectly acceptable 70-300 zoom lens and that is bare minimum. Spend more cash and you can pick up a Sigma 150-500 or 50-500. Both are recent designs and come with the latest goodies such as optical stabilisation and a built in motor. The actual camera is somewhat less important. Anything on todays market will be good enough to use any of these lenses on a stationary animal. Only if you want to shoot rapidly moving animals or birds in flight you will be needing a high end autofocus system such as the excellent 51 points 3-D tracking system that Nikon offers on the D300s.
The bag
If you are carrying more than just a spare lens a shoulder bag is not the best solution. Yes they do allow for quick access but carrying any amount of weight on just one shoulder is asking for muscle and joint problems. Backpacks take some more time to access but will allow you to carry your gear and some extras a lot more comfortably. My personal favorite is the flipside series from Lowepro. Because of the flipside design you can put the bag down, get something for it and put it back on without getting dirt from the ground onto your clothing.

Support
Visit any bird sanctuary or read any website on the subject and you will be hammered with the message that a good tripod is vital to this kind of photography. And objectively they are right. Personally I always had the problem that it took too much time to get the tripod setup and the head just so. My solution has been to switch to a RedGed monopod with a twist and pull release system. It still adds support but keeps me flexible to quickly move the camera to take advantage of an opportunity that I would have missed with a normal tripod.

Keeping comfortable in the field

This is as important as it is variable. Something that works for me on a two hour hike in the temperate climate where I live may not work if you're in the pacific northwest or in Arizona. Let's touch on a few aspects anyway.
Clothing: An appropriate coat, preferably waterproof. warm enough but not so warm that you will get sweat soaked easily. A brimmed hat keeps my head dry and shaded and will keep rain or snow away from my face and glasses. It will also offer protection to any bugs such as ticks that like to drop from branches. Trousers will protect your legs, I don't like shorts because it is too easy for ticks or leaches to attach themselves to bare legs. I go for subdued colours but no full camouflage. If you are in a area where hunters are active a brightly coloured safety vest may be necessary. Good shoes are a must. I prefer high topped hiking shoes but anything that is reasonably waterproof, has a profiled sole and offers some ankle support will do nicely.
Food and drink
Even on short hikes water is a necessity. I know my own water needs which ranges from a litre per hour in high summer to half a litre per 3-4 hours in the winter. I would rather carry too much water than suffer heatstroke in summer. Carry at least something to eat, select a high energy solution that stores well. Most muesli bars will do nicely.
Safety in general
Make sure someone knows approximately where you will be and how long you expect to be gone. Take a mobile phone with you (but keep it on vibrate) and whatever you will need to find your way back (map or GPS).
Next post I will explain some basic fieldcraft techniques for you. For now a shot from my walk yesterday.
–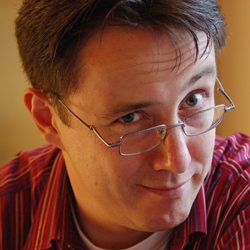 I'm a 30-something IT professional from a small town in the west of the Netherlands. I've been passionate about photography since my early teens. Since 2005 when I moved to digital I've rediscovered the hobby. The last two years I've specialized in landscape and wildlife photography.
Photo/Video Credits: © 2010 Jeroen Wijnands
Email: jeroen.wijnands@gmail.com
Website: http://wijnands.blogspot.com
Twitter: @wijnands

Here's how you can share your tips, techniques and tutorials on CurrentPhotographer.com
–
*The Current Photographer website contains links to our affiliate partners. Purchasing products and services through these links helps support our efforts to bring you the quality information you love and there's no additional cost to you.