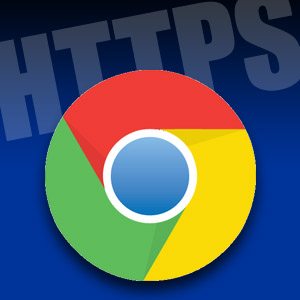 Webmasters and site owners around the world started receiving emails from Google Search Console stating that their visitors will begin seeing NOT SECURE warnings when viewing their sites.
Back in September 2016 Google released a statement saying, beginning in January 2017 Chrome (version 56) will mark pages that collect passwords or credit card information using the HTTP protocol will be marked as Not secure. This indication will be made very prominent by placing it in front of the website url in the browser address bar. This move was part of a bigger plan to mark all HTTP sites as non-secure.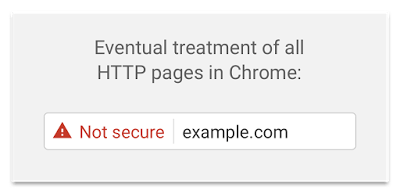 In April 2017 Google was making headlines again, confirming their plan and giving Webmasters and site owners 6 months to migrate to the HTTPS protocol. Starting in October 2017 with the rollout of Chrome (version 62) all web pages not using the HTTPS protocol will be marked as Not secure. Here is the notification email…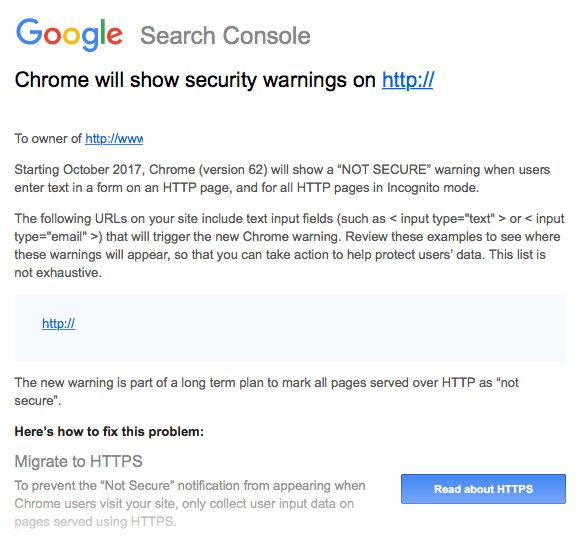 Check out our What is SSL and Why Do I Need it? article for more information.
Why should you care?
The once dominant Internet Explorer web browser has been on a steady decline for years. Its incompatibility with modern website technology, crashes caused by buggy coding, and security vulnerabilities have all paved the way for the new leader, Google Chrome.
According to W3Counter.com, Chrome now owns 64.0% of the web browser market share, with Safari coming in second at only 13.6%. That means the majority of your website visitors could be using the Chrome browser and if your website is NOT using the HTTPS protocol, they will get a warning message in the browser address bar, right next to your url.
Let's face it, if you went to a website and got a warning message saying Not secure, would you stay on the site? Probably not! Most people don't understand the changing internet technology, and as soon as they see the Not secure message they will leave thinking they are going to get a virus or something.
The release of Chrome 62 is only one step in Google's plan to make the internet a safer place. Google is the number one search engine in the world, with YouTube being number two (which is owned by Google). Every time you (or one of your prospects) types a term in the search bar, Google will show the results that they feel best match the query. The search results are Google's "recommendations" to you, and they only want to show you results that they feel are quality and safe.
The HTTPS protocol gives websites a level of trust with Google and the other search engines because of the verification process that is involved in getting the SSL certificate. So just by having https:// in front of your website address, you are increasing the likelihood that Google will rank you higher. But the opposite is true for sites still using http://, you most likely will see a drop in your search engine rankings.
So what should you do?
If you haven't already secured your website with an SSL certificate, you need to do so today! Don't wait until your rankings are affected, or worse yet, your prospects drop off because they feel your website is a risk.
Contact your web host to find out what SSL options they offer, and what the yearly cost will be. If your web host doesn't offer SSL certificates, you should migrate your website to another host who understands the impact this change will have on your business.
Shameless Plug 😉
This article was written to inform the photo community of the upcoming HTTPS change. We feel strongly about taking action now to secure your website to avoid future problems and possible loss of business. If you have a WordPress powered website and your current host is unable to help you with your SSL needs, please contact us immediately. We're happy to discuss your current website configuration and come up with a solution to fit your Managed WordPress Hosting and Support needs.
*The Current Photographer website contains links to our affiliate partners. Purchasing products and services through these links helps support our efforts to bring you the quality information you love and there's no additional cost to you.
Founder of Current Photographer, co-host of The Digital Photography Cafe Show, Designer, Photographer, and overall tech geek.