Howdy folks! This week we will take a look at another Droid photo app, Camera Advance Lite. Once you download and install the app on your phone the first thing you will notice is the main screen is pretty busy. However all the major functions of the app are located along the left margin of your screen. The functions include: shooting mode, scene mode, color effect, focus mode, white balance mode, flash mode, OSD, photo size, picture quality, and preferences. So far so good right? The app gives you much more flexibility for your shots than the standard plain Jane Droid camera. Additionally, you press the menu key from the main screen and you get three additional options: activate, camera roll, and preferences (which also can be accessed from the left margin menu). Activate of course will allow you to get the full version of the app, camera roll allows you to visit the photo gallery, and preferences allows you to tweak all your individual settings from: burst to key volume and everything in between. I left everything default, but if you download and use this app feel free to experiment of course.
The self time works well and can be set for 2, 5, 10, or 15 second delays. The burst mode works pretty well too and the number of photos taken can be set anywhere from 3 to 10 in a row. The app seems to process those quite quickly. Unfortunately I could not get the reduced noise setting to work…so strike 1. The panorama setting has a guide that allows you to more easily line up the photos to lace together and make your larger pic. It requires a bit of practice but works alright. The transparency of the guide can be adjusted in the preferences area of the app. I set it on low and still had problems matching up the photos exactly because its very bright and sunshiny right now.

First successful panorama attempt with Camera Advance Lite
With practice I'm sure panoramas would turn out pretty well, at least as well as I've seen with the Droid apps I've reviewed so far.
The effects you can add to your pictures are limited but seem to do alright, I've definitely seen better. I do like the fact that you can set your flash for torch setting which COULD help in low light situations but might not solve all your problems. I was able to snap a shot in complete darkness of my freezer in my darkened garage, which normally might be blurry and dark with your average Droid camera, and was able to get pretty sharp detail.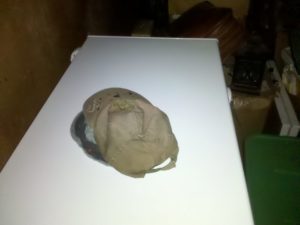 Freezer with "Torch" setting on in almost total darkness
All in all, the app is decent. It does some things well such as special shot settings like timer, burst, etc. There are many features here to try. That being said though, it seems as if some features of the app are either unfinished or too demanding of the phone hardware that it feels a bit clunky. With a little more polish I'd say it would be a good or very good app. Id give it a 3 out of 5 personally and hey the lite version is completely free, so what do you have to lose? Thanks for reading.
*The Current Photographer website contains links to our affiliate partners. Purchasing products and services through these links helps support our efforts to bring you the quality information you love and there's no additional cost to you.
I am half outdoorsman and half technonurd hence my name thenaturenurd. I live in Texas with my wife, Melynie, 14 year old son, Cailean, and our four cats. I've been interested in photography since High School and mostly take landscape photographs but have also ventured into other areas of photography. My photography idol of course is Andel Adams, he did fantastic work. As a gadget nut, I hope to bring you clear concise reviews of Android photo applications and maybe even some tips for landscape photography. I look forward to the interactions…