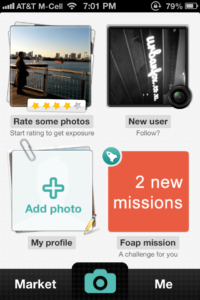 If you are a photographer it is likely that you have at least considered signing on with a microstock agency to sell your stock photos. Some photographers make a very good living selling stock photos. But how many of us make a living selling stock photos from our iPhones? Me either. But is is possible to generate some income from photos taken on your iPhone or other smart phone?
The folks at Foap say they can make that happen. The concept is simple. Download the Foap app and sign up for an account. Then upload your photos through the app. Once your photos are approved they will be added to the Foap website where they may be purchased for $10 per download. You get $5 per purchase and Foap keeps $5. It's pretty much that simple.
So are you ready to strike it rich by selling photos on your iPhone? My guess is that you will not. But could you generate some extra income for your iPhone photos? Perhaps. My job is not to critique the concept, but to review the application.
Signing up is incredibly easy. I must give Foap a great deal of credit for this. However, the menu structure could be a bit clearer. On the home page, you see three menu items across the bottom and four menu items on the page. The menu across the bottom includes a camera icon that allows you to take or upload a photo. The Market menu shows you the latest sold and top rated photos. There is also a menu item for Explore, in which you may search keywords and Missions. Missions gives you ideas about what type of photos are needed and provide the opportunity to win prizes.
The Me menu gives you access to Updates, where you may follow other Foap users, and view activity on your account. The Photos menu allows you to view your photos. Likewise, the Sales menu will let you view your sales. And Profile allows you to add your data, find friends, edit notifications, and set up your Paypal account. All payment is made by Paypal.
The screen menu repeats some of the same functions. Maybe I just don't understand the structure, but I'd like to see a redesign of the menu system. But nobody asked me. This is one worth checking out. Maybe it's for you; maybe it's not. But the folks at Foap deserve recognition for developing the concept.
Enjoy!
*The Current Photographer website contains links to our affiliate partners. Purchasing products and services through these links helps support our efforts to bring you the quality information you love and there's no additional cost to you.
A college administrator by profession, Mike Kennamer enjoys the opportunity to take photos and improve his skills by shooting events at work, church, and for friends. He enjoys landscape photography, portraiture and is starting to dabble in HDR. His current photography project involves learning to control flash manually. "My goal", according to Kennamer, "is to be the best photographer I can be."
Kennamer is also the President of Kennamer Media Group, Inc., a provider of traditional and online media, specializing in the healthcare industry. On CurrentPhotographer.com he writes about iPhone and iPad applications for photographers.