For many photographers Word of Mouth (WoM) marketing is key to their success. Many have built very successful businesses almost entirely on referrals. Some high-end wedding photographers are booked for an entire year ahead of time and have a waiting list in case of a cancelation. They spend minimal on marketing and promotion yet have customers lining up at their door all through WoM.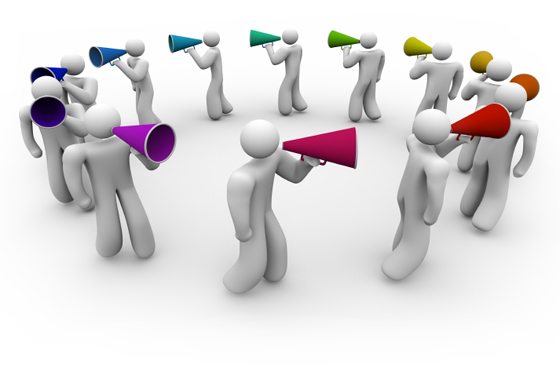 In this article I'm going to talk about creating a Word of Mouth campaign for your photography business by setting up a referral program. So what is a referral program? A referral program is one person telling another person about your service with the expectation of compensation.
Traditional WoM marketing happens naturally by one happy customer recommending your business to their friends and family. This really is the best way for WoM to work, but you'll need a lot of happy customers out there talking you up on a regular basis to drive enough business to keep you busy. This is where a referral program comes in. You may already tell you existing clients "If you recommend me to a friend I'll give you (insert incentive here)". This is common practice and has been done for many, many years in all kinds of industries. Heck, I recommended a friend to my water filtration company and when he signed up I got $50 off the next month's bill.
Referral programs that offer some form of compensation is best left to business-to-consumer (B2C) types of shooting (ex. wedding and event, portrait, etc.) where you are dealing with the end customer directly. Offering incentives to commercial clients may be viewed as a bribe and could possibly cost you the account, although it is common practice to offer a commission or finders fee for a new business lead.
Happy customers are your best sales people and will most likely recommend you without compensation. Offering something like a free portrait sitting for a new customer referral would be a great way to say thanks. But let's take it a step further and get people to recommend you even if they haven't used your services.
This is the approach that business networking groups like BNI International, have been using for years. Group members meet to discuss and get familiar with each others businesses so they feel comfortable recommending them to family, friends and customers. Even though you may never have worked together before they make the recommendation with the hopes of getting a recommendation in return. The same holds true with photographers, just because someone hasn't used your services before doesn't mean they can't recommend you.
Making connections on your own with local businesses that complement the services you offer is your first step. For example, if you're a wedding photographer, look to connect with your local florist, hair salon, make-up artist, reception hall, caterer, etc., to form a small network that you can refer business to. Of course you'll want to meet with each of them and get familiar with their services and business practices to make sure they're a good fit. This is a great approach and can be a source of ongoing business for everyone.
One limitation to the small network approach is, there is only one florist, one hair salon, one make-up artist, one reception hall and one caterer that is referring business your way, thus limiting the number of potential clients. But what if you went to every florist, every hair stylist in every salon, every make-up artist, every reception hall and every caterer in town offering them some kind of incentive for a referral? Now you've greatly increased the amount of potential customers you could get and by offering some kind of compensation instead of a reciprocal referral, you're not obligated or locked in to working with one small group.
The Approach
Start off with one business in your town, maybe it's one who's services you already use and maybe you already know the owner.
Bring your portfolio with you but leave it in the car.
Introduce yourself to the first employee you see and ask to speak to the owner or manager. If they're not there ask for their name and when would be the best time to contact them. Grab one of their business cards and write the information down.
If the business owner or manager is there tell them who you are and what you do. Tell them that you think your services would be a great complement to each other and talk to them about the referral program idea and basic details about the compensation.
If they seem receptive ask them if they have a few minutes to look at your portfolio. During that time you can tell them about yourself, your work and your business practices. Hopefully at the end of the meeting they'll feel comfortable enough in your abilities to recommend you.
The Compensation
You need to offer something of value as compensation so your referral program members will feel motivated to promote you. Money, of course is always the right color, the size is the big question. You have to decide how much a referral is worth to you if it doesn't convert in to an immediate booking. Is it possible that referral may book with you later?
A small dollar amount (say $5) for each referral may be a fair price. If someone books with you from a referral, a higher price should be paid. For example, you're a wedding photographer and you meet with a referral couple, if they don't book with you chances are you will never do business with them in the future. Paying anything for this referral is money out of your pocket for nothing. On the other hand, what means of marketing and promotion would you have to do to get that meeting in the first place? Pay $1,000 plus to have a booth at a bridal show? Run a $500 ad in you local news paper? A small referral payment is still money well spent compared to other traditional options.
Let's say the happy couple books you for their wedding day. If you're charging $3,500+ for the package, throwing $100 to the referee is a small price to pay.
Tracking the Referrals
You need to track the referrals and be honest with payment to your program members. Once they see a little green come their way, they'll be more than happy to continue promoting you.
A great way to track referrals is with a promotional business card. Each card has your business information along with a promotional offer. The offer needs to be something of value, but low cost to you, maybe a free 5×7 picture frame or a free portrait sitting. The potential client presents the card to you at the meeting and before they leave you give them the picture frame or a coupon for the portrait sitting even if they don't book with you. Somewhere small on each card is a code that corresponds to a referral program member and is used for tracking.
Getting the business cards printed is simple and with today's digital printing technology, printers can dynamically insert unique codes on each card as they're being printed. You don't need to go super expensive with the cards, just make sure they fit your company image and properly represent your brand.
Next Steps…
In a previous article "10 Tips to Grow Your Photography Business Locally" I talked about one of the best sources of new clients being those living in your own town. Networking locally and setting up a referral program is a great way to pull those potential clients in.
Start today, pick one business that you're familiar with and talk to them about what you do. Run the idea of the referral program by them to see if they're interested, you can work up the final details later. Asking is usually the hardest part of sales, after that it's all down hill.
If you'd like to get more tips like this one, be sure to sign up for our FREE Weekly Tips to Help You Grow and Enhance Your Photography Business.
*The Current Photographer website contains links to our affiliate partners. Purchasing products and services through these links helps support our efforts to bring you the quality information you love and there's no additional cost to you.