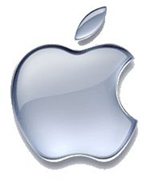 Feb 1, 2010 – After much speculation and anticipation the Apple iPad was introduced to the world at a press event on Wednesday January 27th. This new device is designed for web browsing, reading and sending email, enjoying photos, watching videos, listening to music, playing games, reading e-books and much more.
The iPad measures 9.56" high x 7.47" wide by .5" deep and weighs only 1.5 lbs. It has a 9.7" Multi-Touch LED backlit glossy widescreen with a resolution of 1024 x 768 pixels at 132 pixels per inch. The IPS technology delivers crisp, clear images and consistent color with an ultra-wide 178 degree viewing angle.
There was a lot of speculation about what operating system the iPad would use. Some said it would be a stripped down version of Snow Leopard, and others were saying it would use a version of the iPhone OS. Well the iPhone OS wins and reports show it's using the unreleased version, 3.2. The 12 core applications that come with the iPad have been completely rewritten by Apple taking full advantage of the new OS and to fit the new larger form factor. All of the apps work in portrait and landscape automatically switching between the two when the iPad is rotated. The "soft" keyboard is almost full-size and makes it possible to type with both hands.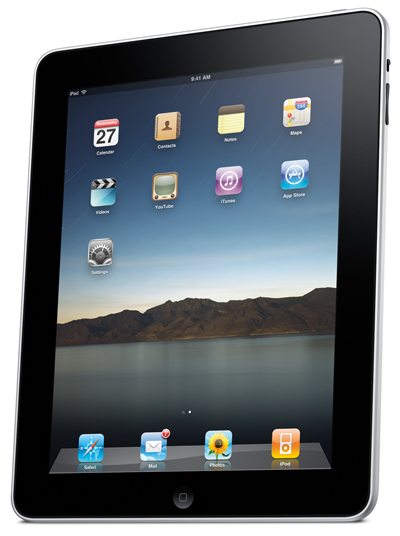 Because the iPad is running the iPhone OS, almost all of the 140,000 apps in the iTunes Store will work on it. Apps that were previously purchased for your iPhone or iTouch will sync to your iPad when connected to your computer using the 30 pin USB cable. Apple released a new Software Development Kit (SDK) on Wednesday to support the new iPad allowing developers to create applications to fit the dimensions and capabilities of the device.
In addition to the applications in the iTunes Store, all of their other products will work with the iPad including over 11 million songs, over 50,000 TV episodes and over 8,000 films including more than 2,000 high definitions videos. Apple also announced the addition of the iBookstore. Using the new iBooks app that ships with the iPad, you can browse and purchase books from major and independent publishers and view them in full color, changing the pages with a simple flip of your finger. Of course we can't leave out podcasts. With thousands to choose from, you can listen to and view enhanced audio podcasts as well as video podcasts in beautiful color where ever you go.
Apple also introduced a new version of iWork® for iPad, the first desktop-class productivity suite designed specifically for Multi-Touch. With Pages®, Keynote® and Numbers® you can create beautifully formatted documents, stunning presentations with animations and transitions, and spreadsheets with charts, functions and formulas. The three apps will be available separately through the App Store for $9.99 each and work seamlessly with iWork running on a Mac.
At the heart of the iPad is a 1GHz Apple A4 custom-designed, high-performance, low power system-on-a-chip that does the processing. Flash hard drives are used for storage and come in capacities of 16GB, 32GB and 64GB. Apple claims you can get 10 hours of battery life surfing the web on Wi-Fi, watching video or listening to music but results will vary depending on your settings. As mentioned, the iPad comes with Wi-Fi built in to all models and is compatible with 802.11a/b/g/n networks. Also standard is Bluetooth 2.1 + EDR technology. The iPad is available with 3G cellular connectivity and supports GSM/EDGE and UMTS/HSDPA networks. Input and output connectors include dock connector, 3.5 mm stereo headphone jack, built-in speaker and microphone. Check Apple's website for a full list of technical specifications.
Apple and AT&T have partnered once again to deliver cellular connectivity here in the U.S. for the iPad. The service will be pre-paid, buy as you go, so there are no contracts to lock you in. You can purchase a data plan right from the iPad and the monthly cost will be $14.99 for 250MB of bandwidth and $29.99 for an unlimited plan.
Apple has also created a line of accessories for the iPad that include a dock with a 30-pin connector for charging, syncing and connecting other accessories. You can import photos and video directly to the iPad from your camera using Apple's Camera Connection Kit that includes a USB adaptor and SD card reader. There is a Keyboard Dock that combines a full size keyboard with a charging dock and a case that protects the iPad and can be used as a stand in various positions making it easy to type, look at photos and slideshows or watch movies.
The iPad will be available in late March in several configurations. For iPads with Wi-Fi only, the 16GB model will sell for $499, 32GB for $599 and the 64GB for $699. iPads with Wi-Fi + 3G will be available in April and the 16GB model will sell for $629, 32GB $729 and the 64GB $829.
Photos Courtesy of Apple
–
*The Current Photographer website contains links to our affiliate partners. Purchasing products and services through these links helps support our efforts to bring you the quality information you love and there's no additional cost to you.