Feb 7, 2011 – PRESS SUMMARY – A great deal of advanced technology and craftsmanship goes into every product that Hasselblad produces and our commitment to quality is evident in each item in the extensive range of professional equipment that make up the Hasselblad line, from cameras and lenses to adapters and lens shades, ensuring that all of your professional needs can be easily met – regardless of the photographic situation you face. Finding a dealer that has the space to handle such a broad range of advanced professional gear is not always that easy, however. And for our U.S. based customers, especially, with the great geographic distances between dealers, this has proved to be a rather major obstacle.
Until now, that is.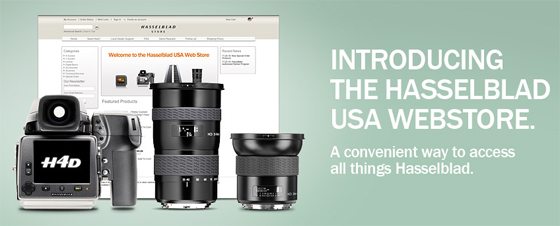 The Hasselblad USA Webstore, launched in conjunction with Hasselblad USA's Authorized Dealer Partners, will provide our all photographers residing in the U.S. with more purchase options and accessibility to the best dealers, services, and support. Those photographers with access to a local dealer will now receive both strong local support from their dealer and factory support from Hasselblad USA, and those photographers who have no local support or dealer alternatives will now have a direct channel to Hasselblad and the industry's best products and services.
Together with our dealers, we can provide faster turn-around times and a simpler, more direct purchasing option for all our U.S. based customers. You can now purchase the gear of your choice directly from our webstore with full support from Hasselblad USA. And if you still want support from a local authorized dealer, it's yours at no additional cost.  The best of both worlds – short term convenience and long-term support.
We are very pleased to be able to announce the launch of the Hasselblad webstore, and to enable all of our U.S. based customers to browse, examine, and purchase any item in the entire Hasselblad range – and to do so from wherever you may find yourself! That's every accessory, every lens, every item we sell. Available any time day or night. With full Hasselblad quality, warranty, and guarantee. Unmatched quality and convenience. On one convenient website.
–
*The Current Photographer website contains links to our affiliate partners. Purchasing products and services through these links helps support our efforts to bring you the quality information you love and there's no additional cost to you.
Founder of Current Photographer, co-host of The Digital Photography Cafe Show, Designer, Photographer, and overall tech geek.