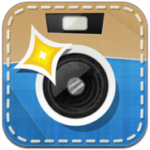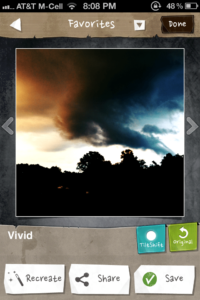 If you have kept up with many of my reviews you probably know that I really like vintage effects. And I have reviewed a large number of apps that provide effects. When I had almost given up on finding something new and different, I ran across MagicHour.
While I can't say that there is anything earth-shattering about the filters in MagicHour, I simply like the way it works. Like most of the others, you may either take a photo within the app or use a photo from your camera roll. Once you select a photo (this is one I took this afternoon as a storm blew through), you go to a screen where you can move, scale, flip or rotate your photo within a square frame. Once you finalize that step you are taken to the filter section.
Here's the neat part. You may select from lots of filters under categories of "Favorites", "Preset", "My Filters", and "Download". Not only can you use filters that are included in the app, you may also create your own filter sets and download filters from The Filter Market. Okay, so they give you a cheap app and get your dough by charging you for all the good filters? No! The Filter Market is free, as is the "Create Your Own Filter". Let's take a look at that feature.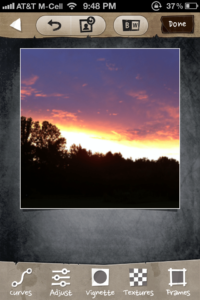 On the menu at the bottom, you have curves, which allows you to adjust all, green, red, and/or blue. Adjust uses sliders to change brightness, contrast, and saturation. Vignette and Textures both have lots of choices and are adjustable. There are also a number of frames. Black and white conversion is easy, with the button at the top. Once you have created your filter, you simply touch "Done" where you can save the filter, share, or save to the camera roll.
This is a great app, priced at $1.99, and loaded with features. This review has just scratched the surface. So be sure to check this one out!
All the best…Mike
*The Current Photographer website contains links to our affiliate partners. Purchasing products and services through these links helps support our efforts to bring you the quality information you love and there's no additional cost to you.
A college administrator by profession, Mike Kennamer enjoys the opportunity to take photos and improve his skills by shooting events at work, church, and for friends. He enjoys landscape photography, portraiture and is starting to dabble in HDR. His current photography project involves learning to control flash manually. "My goal", according to Kennamer, "is to be the best photographer I can be."
Kennamer is also the President of Kennamer Media Group, Inc., a provider of traditional and online media, specializing in the healthcare industry. On CurrentPhotographer.com he writes about iPhone and iPad applications for photographers.