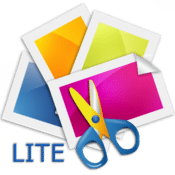 What's better than a great photo? Lots of great photos on the same sheet of paper, of course; and so the collage creation app is born. Or should I say, "apps," as this is not a niche market. Today's app, Picture Collage Maker Lite, is one of many, but will it be this app that is the remedy for all of your multi-photo cravings?
This Lite version comes with 42 templates, including some quite elaborate, themed templates – Christmas and Wedding being examples. Additionally, there are numerous layout templates, which go beyond the usual grid, and allow your images to be arranged in a neat, but seemingly random pattern. A good variety of grid-based templates are available to use as well, if you so desire. Each of these templates has an adjustable size (although if you want to create something bigger than 1920×1440 pixels, you'll need to upgrade to the full version of Picture Collage Maker).
The controls for making your collage are simple and well built. You can alter how the photos "lie" and the amount of the original image that is masked. There is a large library of shapes and looks available for masking, including theme-related shapes. If you fancy, text can be inserted onto the collage in the same way that photos are.
Theme-related clipart is included, as are image frames.
A number of backgrounds are also available, although the tiled ones are probably worth steering clear of (website backgrounds, circa 1998).
There are a number of export options for your finished collage; as an image (five file types are available), a PDF, your Mac's wallpaper, or to email – an impressive range. And I must say that (assuming you choose the right dimensions) creations made with Picture Collage Maker Lite look great as Mac wallpapers.
For those willing to give collage-creation a go – and, as a former sceptic, I really think you should – Picture Collage Maker Lite provides a workmanlike platform with which to build your creations. It isn't pretty, and it isn't stuffed full of features, but it works well, and gets the job done. It also has the major advantage of being free…
You can download Picture Collage Maker Lite from its home page, or via the Mac App Store.
*The Current Photographer website contains links to our affiliate partners. Purchasing products and services through these links helps support our efforts to bring you the quality information you love and there's no additional cost to you.
Mark Myerson loves photography, and in particular, hanging around waterfalls! Landscapes and nature have always been his staple, but he relishes any opportunity to take pictures. He also works closely with many local charities, regularly providing photographic coverage of fundraising events.
Mark is also a self-confessed tech-head and OSX lover – Apple is his favourite fruit!
Mark is the owner of Mark Myerson Photography, a Devon-based business that provides a large variety of photographic services to the local community and beyond. Whilst Mark Myerson Photography specialises in event, commercial and pet photography, almost every type of photographic assignment has been covered by the company.
If you have any photography or OSX-related questions, you can contact Mark via the links given below.