There are many simplistic collage apps out there, allowing for images to be slung onto an imaginary piece of paper. Many of these produce results that are less than attractive. Posterino tries to raise the bar in this genre.
Posterino certainly looks the part. When you open a new project, a sleek interface is presented, and there are a number of different categories of project types that can be selected: blank, e-cards, photo frames or "posterinos." Due to the formidably large array of customisation options available for projects (colour, frame size/position/colour, font etc), virtually any layout is possible, although most of the time, there is no need to stray from the templates.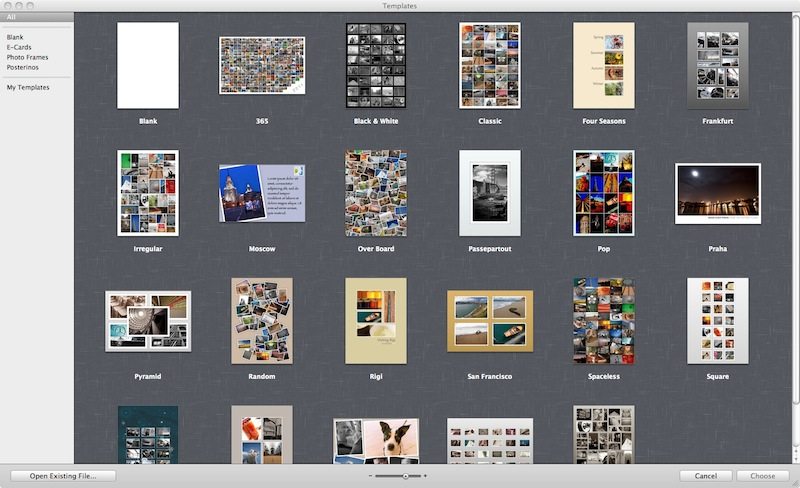 The results are very pleasing. Unlike most e-cards, I can actually imagine myself sending Posterino's e-cards to people as a way of sharing images. The photo frames present pictures in stylish and interesting ways. The 'Posterinos' – the term used in this app to describe the various types of collage – come in a number of shapes and styles. The "365" Posterino allows a picture for every day of the year, whilst the "Four Seasons" photo frame allows an image for each season. Again, the highest praise I can give is that I would actually consider printing out some of the layouts in Posterino and sticking them to the wall – that from an e-card sceptic.
Placing or editing the layout of a project is a smooth, iWork-like experience, with snap-to-grid guides, and the ability to add effects to images after they have been imported to the project. Not that I would recommend the latter, given the very limited nature of the effects – other than turning an image to black and white, all the other effects are simply methods of correcting a poor image (e.g. contrast, sharpening etc).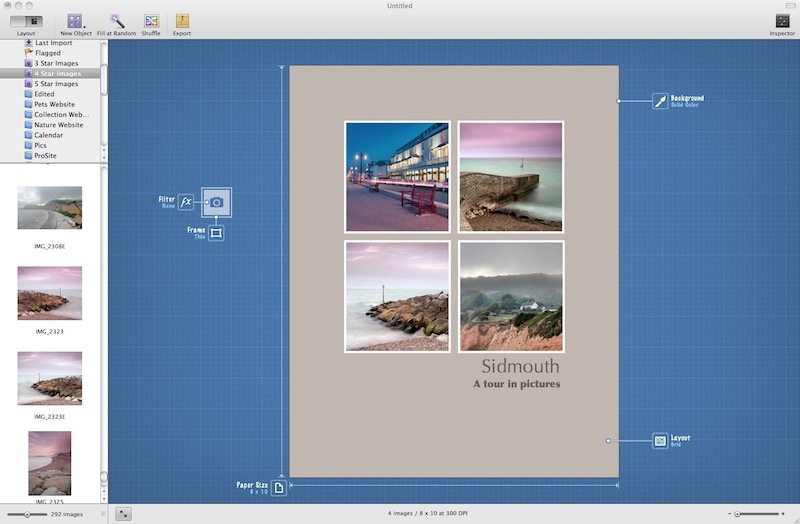 At $29.99 (£20.99), you have to be serious about quality virtual collaging to want to buy Posterino. Despite the customisation options, the lack of more inbuilt templates (or even the ability to download more) does make me feel that Posterino is (at least, in its current form) overpriced. Having said that, those who do choose to purchase Posterino will be presented with a slick, well-made app, which produces pleasing results.
You can download a trial or purchase Posterino from Zykloid Software's website, or from the Mac App Store.
*The Current Photographer website contains links to our affiliate partners. Purchasing products and services through these links helps support our efforts to bring you the quality information you love and there's no additional cost to you.
Mark Myerson loves photography, and in particular, hanging around waterfalls! Landscapes and nature have always been his staple, but he relishes any opportunity to take pictures. He also works closely with many local charities, regularly providing photographic coverage of fundraising events.
Mark is also a self-confessed tech-head and OSX lover – Apple is his favourite fruit!
Mark is the owner of Mark Myerson Photography, a Devon-based business that provides a large variety of photographic services to the local community and beyond. Whilst Mark Myerson Photography specialises in event, commercial and pet photography, almost every type of photographic assignment has been covered by the company.
If you have any photography or OSX-related questions, you can contact Mark via the links given below.