Unlike many of the apps I review in this series, today's is neither new on the market, nor new to me. In fact, I have been using it for years now, so it's about time I shared the brilliance of The Photographer's Ephemeris (TPE) with you.
This app provides accurate prediction of sun and moon positions at a given time, in relation to a location on the inbuilt version of Google Maps. A simple function it may seem, but for any photographer who needs to work with the sun's light, TPE provides a unique and incredibly useful utility.
TPE has a very polished interface, with period-style visual details, providing a beautiful accompaniment to the app's purpose. The main focus is on the Google Maps area, where you navigate to the location of your shoot – a search bar is provided at the bottom to ease this, as is a favourite locations list – and then hit the marker button to see the line of the sunrise and -set, and the moonrise and -set in that location. In addition, you can see this data for, seemingly, any date in the future, and information on the timing of the rise and set events is included on the right of screen.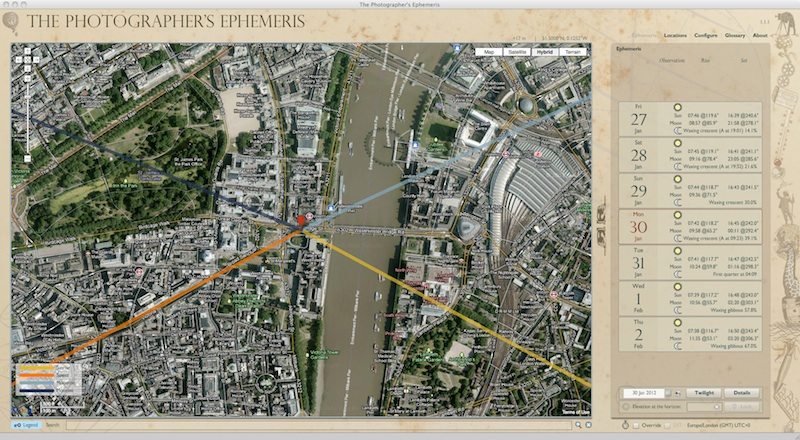 Useful for lovers of twilight light, the timings for this can also be toggled on. And for those of us looking for a moon in shot, even the type of moon (detailed waxing/waning info) is given.
A number of settings can be altered, including what measurement system is used, but in general, TPE is a beautifully simple install-and-go experience. TPE even includes an informative glossary, containing descriptions and links to relevant articles on Wikipedia, about various astronomical occurrences.
All in all, I can wholeheartedly recommend TPE to any photographer taking pictures outdoors, and in particular, landscapers, for whom this tool is invaluable when it comes to planning a shoot. In addition, the Mac version is free (although donations are appreciated), so I suggest you go and download it from the link below NOW!
TPE is available from photoephemeris.com via free download.
*The Current Photographer website contains links to our affiliate partners. Purchasing products and services through these links helps support our efforts to bring you the quality information you love and there's no additional cost to you.
Mark Myerson loves photography, and in particular, hanging around waterfalls! Landscapes and nature have always been his staple, but he relishes any opportunity to take pictures. He also works closely with many local charities, regularly providing photographic coverage of fundraising events.
Mark is also a self-confessed tech-head and OSX lover – Apple is his favourite fruit!
Mark is the owner of Mark Myerson Photography, a Devon-based business that provides a large variety of photographic services to the local community and beyond. Whilst Mark Myerson Photography specialises in event, commercial and pet photography, almost every type of photographic assignment has been covered by the company.
If you have any photography or OSX-related questions, you can contact Mark via the links given below.