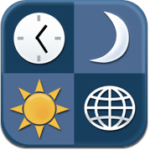 As photographers, we all talk about the "golden hour"–that brief period of time at sunrise and sunset in which the lighting is just perfect. But what time is sunrise anyway? Or sunset for that matter? Better yet, what time will the sun set this time next month when you have the big beach wedding to shoot? What time will the sun rise in Las Vegas in mid-May? What phase will the moon be in when you are shooting that night senior portrait shoot in Asheville, NC? Okay, the truth is that I don't know the answer to any of these questions. But I know an app that does.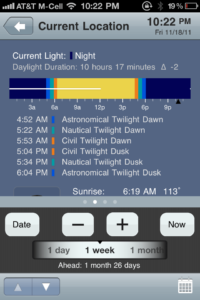 VelaClock Sun/Moon app from Vela Design Group will answer each of these questions and more. Here is the gist of it. When you first open the app it will ask to use your current location. Once you do that you can use your current location or add other locations. Once you select your location, you can view a great deal of information about it. For instance, you can see when the sun will rise and set. The app will give you the astronomical twilight dawn and dusk, nautical twilight dawn and dusk, and civil twilight dawn and dusk.
Okay, I admit that I didn't know what these terms mean, so I'm guessing that perhaps someone else might need a little refresher. Astronomical twilight occurs when the center of the sun is 12° and 18° below the horizon. If you are looking for darkness, you will find it from the end of the astronomical twilight in the evening to the beginning of the astronomical twilight in the morning (barring light pollution). Nautical twilight refers to the time when navigation at sea using the horizon is not possible. This occurs when the center of the sun is between 6° and 12° below the horizon. Civil twilight in the morning begins when the center of the sun is 6° below the horizon and ends at sunrise. Likewise, civil twilight in the evening begins at sunset and ends when the sun is 6° below the horizon. This is the time when you can best view the brightest stars and planets.
So that information is cool, but there is so much more. You also get the time and degree of sunrise, sunset, moonrise and moonset, as well as altitude and azimuth of the sun and moon. Here's the cool part. You can then go to a specific date to view that day's data or jump ahead or behind by one minute, 10 minutes, 1 hour, 1 day, 1 week, 1 month, or 1 year. Need to know how much moon you'll have for your night shoot? Yes, this app will do that also.
There is a great deal of data here to help you plan your shoots. One of the best parts is that you do not have to be connected to the internet to use this tool, so you can use it in remote locations.
This feature-packed tool is available at the App Store for $3.99. If you shoot outdoors a lot this little jewel might just be worth the price of admission. So check it out.
All the best…Mike
A college administrator by profession, Mike Kennamer enjoys the opportunity to take photos and improve his skills by shooting events at work, church, and for friends. He enjoys landscape photography, portraiture and is starting to dabble in HDR. His current photography project involves learning to control flash manually. "My goal", according to Kennamer, "is to be the best photographer I can be."
Kennamer is also the President of Kennamer Media Group, Inc., a provider of traditional and online media, specializing in the healthcare industry. On CurrentPhotographer.com he writes about iPhone and iPad applications for photographers.
*The Current Photographer website contains links to our affiliate partners. Purchasing products and services through these links helps support our efforts to bring you the quality information you love and there's no additional cost to you.