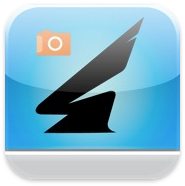 Jan 24, 2010 – SmartStudio: Wedding Photographer Studio Manager, is a new iPhone app. that empowers wedding photographers to manage their entire studio from the day a prospective bride calls to the day the final product is delivered, all from the iPhone or iPod Touch. There's no need for expensive desktop software to manage your business. SmartStudio will help you keep track of details, manage payment schedules, create custom packages, create and manage itineraries, integrates with Google maps for easy navigation, create shot lists, capture photo ideas and manage crew members.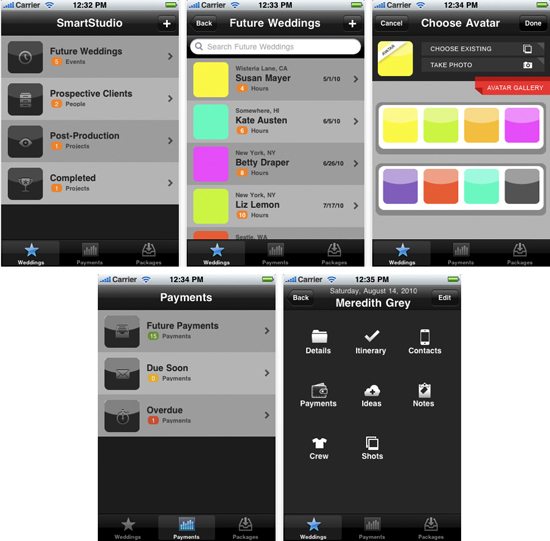 Features include:
Track and manage payments due across multiple bookings and multiple payment milestones
Easily contact clients to remind them of a payment due date
Filter bookings by Future Weddings, Prospective Clients, In Post Production, and Complete
Each booking contains a Dashboard with access to: Details, Itinerary, Contacts, Payments, Ideas, Notes, Crew, and Shots
Manage your packages and associate them with your bookings
Easily create custom packages and customize payment due dates and amounts
Create and manage itineraries for the entire day of each of your booking
Google Maps integrated into itinerary to easily navigate to important locations at the right time
Create shot lists and check off shots as you complete them
Connect with your client or important person over the phone or email directly from the app
All contacts integrated with your address book so their name shows up in Caller ID
Note where final products are supposed to be sent
Capture photo ideas: Client may bring an image from a magazine or email you an image and you need to remember
Manage crew members for each wedding and easily contact them over the phone or email directly from the app
One-time cost for the software opposed to a monthly cost to operate a non-mobile software solution
No internet connection required
Access information on the go, when you need it, where you need it
This app isn't cheap and normally sells for $29.99 but you can download it at a special sale price of $19.99 until January 29, 2010.
–
*The Current Photographer website contains links to our affiliate partners. Purchasing products and services through these links helps support our efforts to bring you the quality information you love and there's no additional cost to you.