With the advent of low-cost digital SLRs, the field of photography is being democratized — even the most entry-level version sports image quality and responsiveness that stand head and shoulders above the point-and-shoot cameras that reign supreme in the consumer market, offering the first-time photographer an excellent tool with which to begin learning.
Inevitably, newbies flood photography forums on the Internet, wearing their heart on their sleeve and putting their best work up for critique.  A curious sequence of events then unfold for our newbie: She puts up a few colourful sunsets, maybe a few flowers, a couple of black-and-white portraits; since she love taking photos, her SLR is always with her. She gets to be know as The Gal With The Awesome Camera.  And then, almost out of nowhere, it happens: some friend or acquaintance, having seen her photography, asks her if she'd be interested in shooting their wedding.
This was exactly my situation a few years ago.  A friend of the family, looking for an inexpensive wedding photographer, asked if I'd be willing to take on the job.  They couldn't offer me much money, but that didn't matter — I refused the job, because I honestly didn't feel that I was ready and able to do it.
Little did I know how right I was.
As a relatively-new photographer myself (at least when it comes to shooting professionally, and especially at weddings), I often see the old guard either a) warning new entrants of the pitfalls and perils of weddings, or b) actively discouraging these newcomers from giving it a go.  I don't much care for the latter behaviour, but I'd like to offer some "newbie-to-newbie" advice to those who would like to try their hand at the wedding game.
I shot my first wedding in the spring of this year, and even though it's been years since I was last asked to shoot one, I still wasn't as prepared as I thought I was.  So, based on that experience, here's why you're not ready to shoot a wedding.
1. You Don't Have Enough Gear
For an amateur, I consider myself well equipped.  I showed up the day of the wedding with my Canon 5D Mark II, a couple of lenses, a couple of flashes, and extra batteries, and thought I'd be fine.  And, for a few hours, I was.  I was snapping away happily, until my go-to lens –a Canon 24-70mm f/2.8L– started throwing sporadic "ERR00" communication errors.
Great.  So I could either just grin and bear it, fussing with the lens every time it went awry, or put it away for the rest of the night, and deal with switching between primes (I had a 28mm, a 50mm, and an 85mm with me as well).  Both situations meant wasting time, and, worse, potentially missing The Shot.  If I had a second body, I'd have just put away the 24-70 and slapped a prime on each — probably the 50 and the 85 — and been fine.
Then there were the issues with the flashes.  Well, technically, the flashes worked fine, but trying to trigger them reliably via an ST-E2 transmitter when you've only got minutes to set up, pose, and tear down was an exercise in frustration.  Proper radio triggers would have had made this far easier.
Despite these problems, I somehow made it through the night without tossing my gear in the trash bin (or hitting the open bar).  I definitely have a much better idea now of what I should have brought, what I didn't need to bring, and how to work gracefully around the problems that invariably crop up with gear.
2. You Don't Have Enough Time
I spent about ten hours shooting the wedding and came back with nearly 700 photos.  That's actually not many, by professional standards — maybe half of what could be expected.  And, hey, I've come back from vacations with just as many –if not more– photos, so it's not like I've never had to deal with that many images at once before.
Except for one thing.  Wedding photos have to be delivered to the client within a reasonable amount of time. My vacation photos?  Yeah.  I'm a couple of years behind.
Like many of us, I have a full-time job, and other obligations besides photography.  Frankly, finding the free time to go through and process these photos for the newlywed couple within a few weeks was simply not going to happen, unless I decided to forego things like, well, sleep.  The day of the wedding is only a portion of the entire time you spend on these jobs — you'd better have an efficient workflow to get it done in a reasonable period of time.
3. You Don't Have Enough Experience
I've shot concerts and art show openings (as an amateur) and figured that a wedding wouldn't be much different.  I mean, heck… it's basically just event photography, right?
Wrong.  So very, very, wrong.
None of these events will adequately prepare you for the ten to twelve hours you spend on your feet, coupled with barely having time to inhale a granola bar, dealing with friends and family of the newlyweds ruining your shots to get their own photos, guests taking advantage of the open bar (luckily, that wasn't an issue for my first experience), and trying to get wedding portraits in the middle of one of Ottawa's most popular museums (where the reception was held) before closing hours.
The Fix: Mentorship
So, how did I manage to not make a complete arse of myself?
I was offered a great opportunity by a pair of wedding photographers, Caitlyn Bom and Saad Khan: Tag along on a large wedding that they were going to be shooting, as an apprentice.  I wouldn't be paid, but I'd be there as a third shooter.  They'd seen my work, and felt confident enough about my professionalism, and thus invited me to join them.  It was a win-win situation: I would get to try out wedding photography without the performance anxiety, and they'd get additional coverage of a large event.
So what if I didn't have enough gear?  If my stuff failed, there were still two other photographers there, with their own equipment, to cover the event.
So what if I didn't have the time to process all the photos I shot?  They took full control of the deliverables, so all I had to do was provide the images — they're the pros and thus have their workflow down.
So what if I had no experience?  I had theirs to draw upon.  I learned a lot from the event, sure, but the most valuable lessons came from watching professionals in action: dealing with the clients, dealing with the guests, dealing with the venue management, and dealing with each other.
So, you may not be ready to shoot weddings — but there is a fix.  Talk to pros.  Seek out mentors.  You can learn plenty from a photography website, but nothing beats learning-by-doing.
Many thanks to Saad Khan (Toronto) and Caitlyn Bom (Syracuse, http://caitlynbom.com) for the opportunity to learn.
Update: This article has been very popular and made it's way into many Facebook posts and forums. There's a Flickr discussion going on here that's worth checking out.
---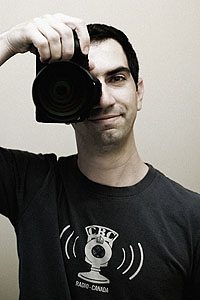 Angelo Stavrow is a freelance photographer and writer in Montreal, Canada, who takes photos because he's rubbish with paintbrush and a canvas.  He prefers to enjoy the big picture, rather than examine the individual pixels.
Website: http://angelostavrow.com
Twitter: @angelostavrow

Photo Credit: © 2010 Angelo Stavrow
Here's how you can share your tips, techniques and tutorials on CurrentPhotographer.com
–  RH7Z7B5VTVRR
*The Current Photographer website contains links to our affiliate partners. Purchasing products and services through these links helps support our efforts to bring you the quality information you love and there's no additional cost to you.