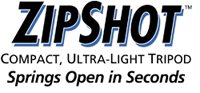 Summertime is coming and Tamrac creators of the ZipShot tripod want to make sure you don't miss another memory. The ZipShot lightweight, collapsible tripod sets up in seconds and weighing just 11oz with a folded size of 15 inches, it's small enough to put in a bag or backpack and take with you anywhere.
To open it, simply unhook the two red shock cords and release. The legs spring open and lock into place due to their built-in shock cords. When assembled the tripod measures approximately 44 inches high and 38 inches wide from leg to leg. The metal ball-head makes it easy to mount and adjust the angle of cameras and camcorders weighing up to 3 lbs.
Check out my review… 
The ZipShot has an MSRP of $59.99 but I've seen it online for around $50. Check out Amazon.com for their latest prices.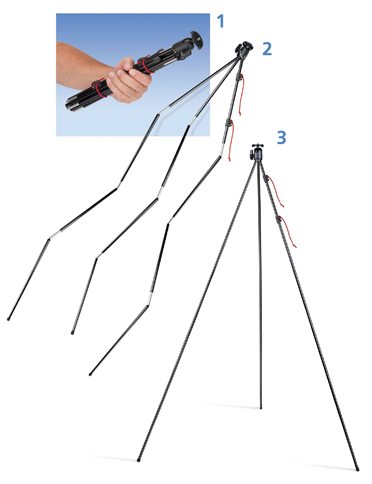 PRESS RELEASE
Summer Travelers Will Never Miss a Memory Again with ZipShot® — the World's Most Portable Tripod
Lightweight, Collapsible Tripod Sets Up in Seconds, Allowing Anyone to Bring it Along and Get the
Perfect Shot
CHATSWORTH, Calif.–Now everyone can capture the perfect sunset shot, or take a family photo with everyone in it! ZipShot®, the world's most portable tripod, springs open in seconds and makes it easy for travelers to capture the memories from their summer trips. Developed and marketed by Tamrac, the leader in camera cases and photography accessories, ZipShot is an ultra-light, ultra-compact tripod weighing
just 11 ounces and folding to 15 inches, making it easy for anyone to bring along on their summer
vacation this year.
There are many situations where having a tripod is essential for a great shot: the fleeting photo opportunity as the sun sets over the water, the hummingbird that hovers for just a few moments, or the group photo with everyone in it. Until now, most travelers have chosen to leave bulky, heavy tripods at home. ZipShot's small form factor and light weight make it the perfect travel solution. Its legs spring open in seconds to a height of 44 inches to support DSLRs weighing up to three pounds, point-and-shoot cameras and camcorders. The compact size makes it easy to pack in a carry-on suitcase, backpack, or purse, making ZipShot this season's must-have travel accessory.
"Every time I return from an adventure and am dissatisfied with my photos, it's because I didn't use a tripod. But until recently, I haven't wanted to add another bulky piece of equipment to the laundry list of things we bring on family vacations," said Steve Werner, president of Werner Publishing. "That's changed. I've been able to carry ZipShot in my backpack, on my dirtbike and on skis. Now, we can hop off the ski lift, set up in seconds, and take a great picture of our whole party."
ZipShot is available for purchase at Amazon.com, Sears, Ritz Camera, B&H and independent photo shops worldwide. The product retails at an MSRP of $59.99. For a list of authorized dealers visit: http://www.zipshottripod.com/dealers.cfm.
About ZipShot
Designed by Tamrac, the leader in camera cases and accessories, ZipShot allows everyone to capture the great shots they have been missing with a portable tripod that can be taken along anywhere. Made of aluminum, the ZipShot is totally portable, weighs only 11 ounces and fits easily into a carry-on suitcase, backpack or purse. For more information, visit http://www.zipshottripod.com.
About Tamrac
Tamrac is the leading global manufacturer of camera cases and accessories, with distribution throughout the world. Founded in 1977 by outdoor enthusiasts with a passion for nature photography, the company's products are built to be tough enough for the outdoors, but easy to carry and capture spontaneous photos. The company is headquartered in Chatsworth, CA. For more information, visit www.tamrac.com.
–
*The Current Photographer website contains links to our affiliate partners. Purchasing products and services through these links helps support our efforts to bring you the quality information you love and there's no additional cost to you.
Founder of Current Photographer, co-host of The Digital Photography Cafe Show, Designer, Photographer, and overall tech geek.