Often times a portrait photographer does everything right; perfect lighting, great location, correct exposure and flawless composition. However, the photo still comes out flat. Something isn't right. Smiles are forced, people are uncomfortable and the emotion is just not there. The fact is, if you're photographing people don't forget about the most important part – the people. When was the last time you were in front of the camera? Do you remember how that felt? If not, please ask someone to take your photo and come back to this post after you're done. The bottom line is that being in front of the camera can be rather difficult and stressful for some people and it's our job as photographers to make them feel at ease so that they in turn will look better in the image. Here are five tips to improve your attitude (and in turn your portraits):
Don't put the blame on the subject – remember that your attitude is everything and it's only your attitude that you can control. Consciously or not, people will sense if you are angry, annoyed or uneasy in any way so check the grump factor at the door. If you're photographing children or pets your attitude is even more important because both of these will immediately sense your frustration and then you might as well pack up and go home.
Take the time to talk to (and listen to) your subject (yes, even works with pets). Show an honest interest in them. If you have serious disdain for whatever you are photographing please consider another line of work before you take on something that will only lead to disappointment.
Laugh, tell a bad joke, make a face – humor is a sure-fire way to get the person in front of the camera to loosen up. Anything that will get them laughing (with you or at you) will relax them right away. Laughter will also relax you, and that's a win-win situation.
Show them what you are doing. One of the advantages of digital photography is the instant gratification and kids especially love this. When they see themselves in that tiny screen it makes them more excited about what they are doing. Adults like this trick too, it usually makes them feel like they are part of the process and more at ease.
Pay attention. As visual people we should pick up on the visual clues. It could be that your subject is uncomfortable in a particular location; it could be fear of heights, too many onlookers or who knows what but if you perceive that and take them somewhere where they are more comfortable and they can relax it will almost always improve the shot.
Think of yourself and your attitude as a mirror. Whatever is in you will reflect on your subjects and in your portraits. So remember what you love about photography and make it a fun shoot for everyone. Trust me, the results will be there.
–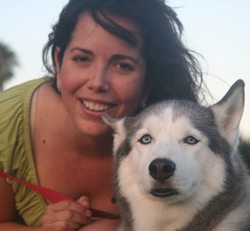 Born and raised in Caracas, Venezuela, I came to the US to get an education in interior design. Art has always been a part of my life – my mother worked in art museums, my family owned art galleries – there has always been a curiosity and appreciation for all things creative. After I completed my degree I opened an event design studio in Fort Lauderdale where wedding flowers were the main focus. For seven years I worked as a floral designer and I adored it. During that time I began to explore photography in order to build my event design portfolio.
I now live in San Diego with my beloved husky Bella and I have fallen in love with photography and the creative process. I see every shoot as an opportunity to learn or try something new. My photography is organic and unstructured, candid and un-posed, natural, unplanned, honest and wrapped in Southern California style. I seek to photograph the beauty in the world around me so that you may experience it the way I do. What you see in my Etsy shop is my passion, my joy and my vision. To me, photography is a privilege and I am honored to be able to capture memories that others will treasure for years to come.
Photography is my passion. What you see in my portfolio is my vision, my joy, my world.
Photo/Video Credits: © 2010 Ana Ramirez



Company: Ana Ramirez Photography
Phone: 954-600-5732
Email: info@anaramirezphotography.com
Website: http://www.anaramirezphotography.com
Twitter: @fotomia
Facebook: http://facebook.com/anaramirezphotography
Etsy: http://anaramirezphoto.etsy.com
Here's how you can share your tips, techniques and tutorials on CurrentPhotographer.com
–
*The Current Photographer website contains links to our affiliate partners. Purchasing products and services through these links helps support our efforts to bring you the quality information you love and there's no additional cost to you.