It's no secret that travel is becoming increasingly difficult. Airports haven't been much fun for the last 20 years or so anyway. But with the increased security following 9/11 and the more recent attempted shoe and underwear bombers, air travel has easily become the most unpleasant part of any trip.
But normally, the best photography sites in the country are not in our back yards. That means travel – often, by air.
So that raises a question.
Should you trust thousands of dollars in camera gear to the tender mercies of the TSA and airline baggage handlers? Or should you ship your gear ahead of you?
There are pros and cons to either. But first, some full disclosure. In addition to my work as a photographer, I own a retail shipping store (similar to a UPS Store) called Postal Center USA in Randolph, MA.
Not that I expect photographers to flock to me to ship camera gear, but I think it's worth being up-front. It also means that I can speak with some real expertise on the matter.
First, if you can safely carry your gear on board the aircraft, that's the best option. Your gear stays within your control (except during the TSA "experience"). But my advice is to select seats in the back of the aircraft so you can board earlier. And place your gear in an overhead bin *in front* of you so you can see it.
Check with the airline. Ask what type of aircraft will be used and what the maximum dimensions in the overhead bins are. The only caution is that the aircraft type can change at the last minute.
If you suddenly find yourself unable to use the overhead bins for any reason, politely insist that you "gate check" your gear due to fragility and high cost. That means that you hand it to the baggage handler at the gate, and they bring it back to you at the jetway. There's a lot less handling that way.
But if you're like me and have too much gear to fit in that overhead bin, consider shipping it with FedEx or UPS. You can do this safely if you follow a few precautions:
1. Be sure your gear is insured. Check with your homeowner's or renter's insurance. And a note of caution – if you shoot anything for pay, these policies will not cover you. In any case, contact your insurance broker and ask about an "inland marine policy", which covers for replacement value – not depreciated value. I buy mine through PPA (www.ppa.com)
2. Record the model and serial numbers of every piece of gear – just in case.
3. Be sure you have a reputable place to receive your gear. A national chain hotel should be OK. I'd be cautious about one that doesn't have a big company name behind it. A Hampton Inn is fine. Joe's Bedbugs & Breakfast Motor Lodge? Not so much.
Consider contacting a shipping store to see whether they will receive and store your gear for a small fee.
4. Ship your gear with either FedEx or UPS so that it arrives at least one business day early. Just in case. And track the shipment early in the process for the best chance of catching any problems.
But unless you have big stacks of money to burn, leave yourself enough lead time so that you can ship via ground. Air shipping gets a lot more expensive!
5. Padlock your bags – even a small padlock through the zipper handles is a deterrent.
I find that even without my "storeowner's discount", the cost is well worth it.
I don't pay for the additional checked bags, I don't have to carry them, and I even ship my clothing so I can breeze through the airport.
One last hint – remember to carry your GPS with you. If you ship it ahead in your luggage and need directions to find it, well…just remember to keep it with you!
Follow these precautions and enjoy your next flight a lot more. Shipping your gear ahead makes the whole airport experience a lot less stressful, and that's a luxury well worth paying for.
---
–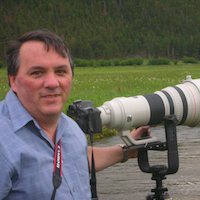 Charles MacPherson is an award-winning wildlife photographer and resident of Scituate, Massachusetts.
He has been behind a camera since 1973 when shortly after picking up his Dad's "Argus Brick", he was inspired to buy his first SLR – a Canon TLb.
His decades-long love affair with photography morphed into an obsession with wildlife photography and a specialty in birds.
He conducts photo-tours around the country as well as workshops and classes in the Boston area and writes two weekly blogs: www.TheAmazingImage.com which covers general photography topics and www.TheWildInFocus.com, focused on wildlife photography and is a blogger for B&H Photo.

Company: The Amazing Image
Phone: 781-470-9111
Email: charlie@TheAmazingImage.com
Twitter: @TheAmazingImage
Facebook: https://www.facebook.com/charlie.macpherson.1

Photo Credit: © Charles MacPherson
Here's how you can share your tips, techniques and tutorials on CurrentPhotographer.com
–
*The Current Photographer website contains links to our affiliate partners. Purchasing products and services through these links helps support our efforts to bring you the quality information you love and there's no additional cost to you.