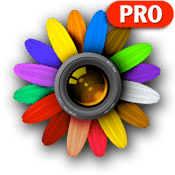 (O.K., O.K…. another effects app. But this one is different, I promise!)
I have reviewed a few effects apps for Mac in this series, and used many more. Some have been good, some limited, some very average. Having used FX Photo Studio Pro ($39.99/£27.99), however, I can say that anyone who purchases this app may never need another effects app again.
Extreme praise you may be thinking. But I think it is merited – FX Pro has raised the bar for stylising as far as I am concerned, not just because of the vast quantity of high quality filters it provides; nor just because you can add as many styles to an image as you like; nor is it because all the filters are highly adjustable. It is because of the app's sleek, beautiful design, its stability, and its ease of use. It is fair to say that I prefer using this to iPhoto (though obviously FX Pro performs a different function).
Importing images is as straightforward as drag-and-drop, and images load at lightning speed, with a high quality preview.
Step one is to apply one or more effects. With 172 effects, given their quality, if you can't find an effect to suit your picture amongst this selection, you're not trying hard enough. What's more, all of these effects are customisable, and I'm not just talking about a "strength" slider. One of the better examples is the very fine tilt-shift filter; the strength of blur, and the radius of the focus sweet spot are selectable, along with the actual placing of the sweet spot. The colour warping filters can be adjusted to include a smaller or larger colour target range, whilst even a 3D effect can be applied, with the degree of depth adjustable.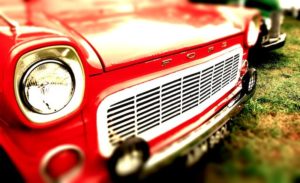 Using these effects is a great experience. All are accessible from the bar at the bottom, and can be located by category, by the search bar, or from your favourites list – yes, there is one for sorting the proverbial "wheat" effects, from the "chaff" ones.
Another killer feature here is the ability to save and recall presets; that is, the particular settings you have used for an effect, meaning even speedier effect application. The ability to see a "before and after" split-screen is another welcome bonus.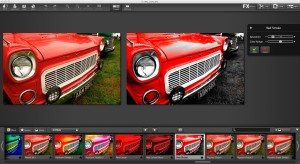 FX Pro also includes the ability to crop, rotate, and adjust pictures (levels, saturation etc) before outputting them, which saves having to open another app for these basic editing features. Like all processing that occurs in FX Pro, operations are very quick (even when using with 3 other apps open, as I have done).
Even the ways to output an image from FX Pro are competition-beating. You can either save the image to your hard-drive, or share it online. From within the app, you can share images via Facebook, Tumblr, Flickr, Twitter or simple email. Even here, FX Studio excels in speed and ease of use – uploading an image with dimensions of 800×600 to Tumblr took just 8 seconds (and that isn't with lightning fast broadband).
Overall, I have to say that FX Photo Studio Pro is brilliant, and only the price could possibly be an excuse for not snapping up this app in a hurry. In terms of its functionality, however, it is stunning, and for this reason, it gets my first award of the "OSXcellence 10/10" badge of honour!
To get your hands on FX Photo Studio Pro, head to its home page.
–
*The Current Photographer website contains links to our affiliate partners. Purchasing products and services through these links helps support our efforts to bring you the quality information you love and there's no additional cost to you.
Mark Myerson loves photography, and in particular, hanging around waterfalls! Landscapes and nature have always been his staple, but he relishes any opportunity to take pictures. He also works closely with many local charities, regularly providing photographic coverage of fundraising events.
Mark is also a self-confessed tech-head and OSX lover – Apple is his favourite fruit!
Mark is the owner of Mark Myerson Photography, a Devon-based business that provides a large variety of photographic services to the local community and beyond. Whilst Mark Myerson Photography specialises in event, commercial and pet photography, almost every type of photographic assignment has been covered by the company.
If you have any photography or OSX-related questions, you can contact Mark via the links given below.