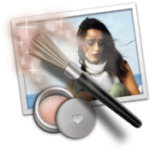 As keen photographers, when we present our images on paper, we will often spend a lot of time (and money) on making the presentation of our images beautiful. The same care is often not taken when we publish images online. Perhaps this is as a result of the unlimited nature of the internet, as well as the speed at which it operates. Whatever the reason, perhaps we should start taking a little more care, not least because more and more, we view images on-screen – a trend which isn't likely to reverse any time soon.
Acqualia, the makers of the popular Mac spreadsheet/calculator hybrid Soulver, have created their own app for streamlining the process of digital image presentation – Picturesque. But are you better off sticking with Photoshop?
The idea of Picturesque is to make the process of creating reflections, shadows and rounded corners straight-forward. Drop your image into the app, and almost instantly, you're ready to edit within Picturesque's smooth, clean interface. There are, essentially, 5 different options: perspective, reflection, shadow, corners and stroke.
The perspective tool allows you to position your image at a 3D angle, as if rotating a piece of paper in space. The usefulness of this feature? Well its use isn't exactly obvious……shall we move on?
The reflection tool allows you to apply an iTunes coverflow-style reflection below your image, and I can imagine this being quite useful for creating a certain look on websites, although generally speaking, this isn't of great use to photographers. If you do want a reflection, however, Picturesque provides you with customisation options (length, opacity, offset) whilst also retaining rapid use, and the finished product is very much one of quality.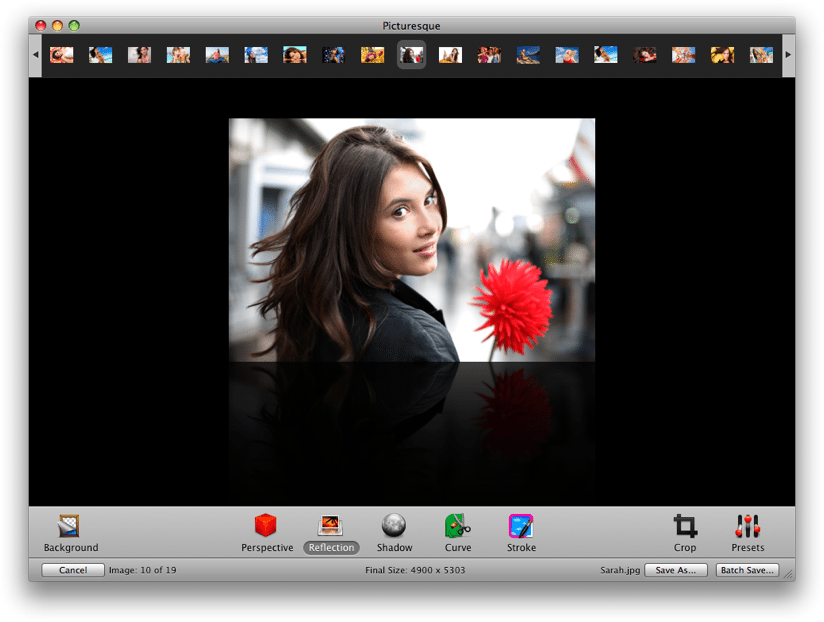 The shadow tool, however, is more useful, given how much shadows are used for effect in web design . While experimenting with various designs for my personal photographic website, I tried a virtual gallery look, where each of the pictures in my portfolio had a Photoshop-generated top-light and accompanying shadow below – the look of pictures hanging on a wall, in other words. And I must say that the shadow part of the Picturesque package would have saved me a lot of time, with its simple yet fully comprehensive controls – blur radius, opacity, colour, angle and glow.
Equally, some folks might want to round the corners of their images to achieve a certain style, and Picturesque's corners tool does this without fuss; in the same way, the stroke tool allows the addition of a coloured border of whatever size you want; Picturesque also includes a crop tool.
I try many super-simple apps, like Picturesque, dealing with cloning or HDR, and many of them just feel like someone has taken a larger, more useful, piece of software, and just stripped out some of the bits, making the end result somewhat pointless. Picturesque, however, knows its game; do a few things, fast. There aren't many apps dedicated to these relatively niche tools (reflections and shadows are not your everyday kind of effects), and the ease and speed with which you can open, use and close Picturesque is a testament to what a fine little app it is.
You can try or buy Picturesque from Acqualia's website, or purchase it from the Mac App store for $14.99/£10.49.
"This post contains links to my affiliate partners. Purchasing products and services through these links helps support my efforts to bring you the quality information you love and there's no additional cost to you."
*The Current Photographer website contains links to our affiliate partners. Purchasing products and services through these links helps support our efforts to bring you the quality information you love and there's no additional cost to you.
Mark Myerson loves photography, and in particular, hanging around waterfalls! Landscapes and nature have always been his staple, but he relishes any opportunity to take pictures. He also works closely with many local charities, regularly providing photographic coverage of fundraising events.
Mark is also a self-confessed tech-head and OSX lover – Apple is his favourite fruit!
Mark is the owner of Mark Myerson Photography, a Devon-based business that provides a large variety of photographic services to the local community and beyond. Whilst Mark Myerson Photography specialises in event, commercial and pet photography, almost every type of photographic assignment has been covered by the company.
If you have any photography or OSX-related questions, you can contact Mark via the links given below.