It's 4:30am and my alarm clock has just gone off, it's still dark out but as I look out of the window I can see both cloud and starlight. This could potentially be a good morning for photography. I had already planned for a trip out today so everything was already packed up and ready to go. All I had to do was drag myself out of bed, throw on some clothes, grab my gear, get in the car and go.
For today's shoot I had planned to go to Bodiam Castle, not a half hours drive from my house I knew that I could get there well before sunrise. When I arrived it was still pitch black and the gates to the car park were closed. No worries, I just parked in front of the gates. I would be at home with coffee and breakfast by the time staff arrived to open up. With my hat and gloves on, I grabbed my gear and set off up the path towards the castle.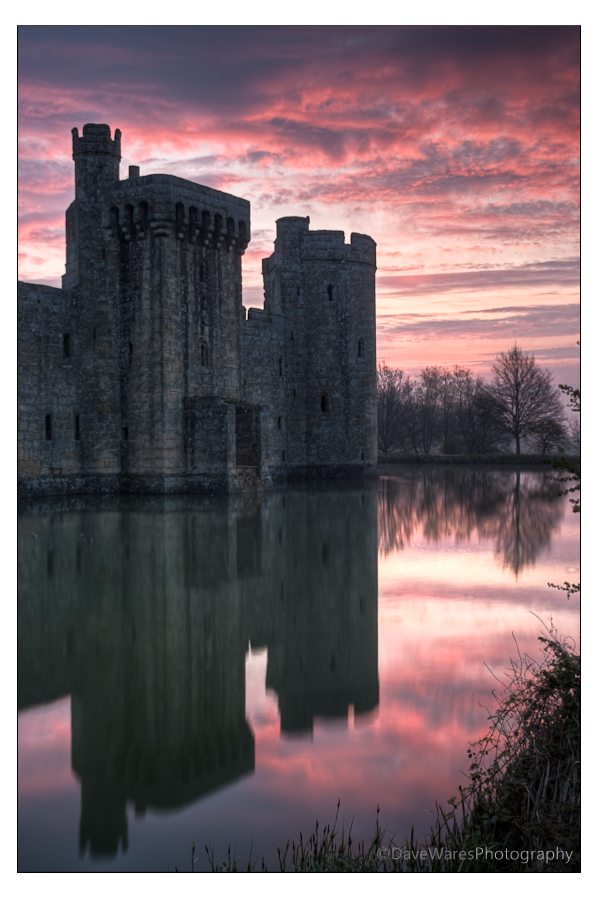 Though it was dark I could still see my way via the moonlight and having photographed here before I knew just where I wanted my first shots to be. I set up my tripod and camera using a small torch and went about adjusting the settings so that I was more or less ready to go when the light hopefully happened for me. ISO200 at f16 with focus manually set on the castle, the only thing left to do was to set the shutter speed at the right moment. In addition to this I had set the camera to auto bracket my exposures at +/-2EV as I wanted to try some HDR processing. This was the first time I had returned to this location since I had started using HDR.
Still dark and all alone I took the opportunity to have a quick scout around the area to get some ideas for additional compositions, then went back to my camera and waited. The sky started to brighten and to my delight it went all pinky purple, I quickly set the shutter speed and started shooting. After my initial shots I decided that this particular spot want best shown off with the camera in a vertical format, and with a few slight alterations I kept shooting as the light rapidly changed. All too fast the atmosphere came and went but I had my shots and I was happy. Although for the time being the light had gone a bit dull and flat, I could see just a hint of yellow becoming gradually stronger. I may get some more shots yet.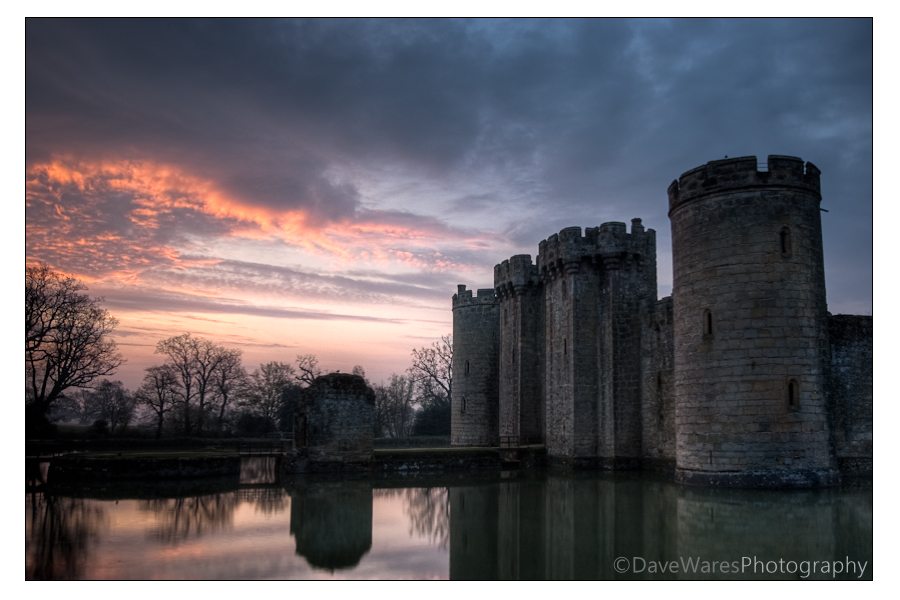 The sun still hadn't risen over the horizon so I went to move to a different location. As I did I caught sight of  a figure heading speedily towards me, tripod in hand. "Good morning" I said, "morning" he replied. I think he probably would've rushed straight past me if I'd said nothing. I think he knew he was too late and missed the best bit, probably witnessing it all as he drove towards the castle, it would certainly explain the slightly grumpy look he had on his face. Not leaving 20 mins earlier is all it took for him to miss out on some gorgeous light. All too often have I seen folks turn up after the sun has risen and the atmosphere all but gone.
Get out of bed early! It's one of the best bits of advise any landscape photographer can be given.
As it happens the sunrise did get us an extra half hour of shooting and I managed to get a few more shots I was happy with before heading home. I'm sure that the other chap got some shots he was happy with as well, but there were a load of pinky purple shots that he sadly missed.
The early bird catches the worm.
*The Current Photographer website contains links to our affiliate partners. Purchasing products and services through these links helps support our efforts to bring you the quality information you love and there's no additional cost to you.
Based on the south coast of England UK, I love to photograph landscapes and nature. In addition to this, over the past two to three years I've become fascinated with Urban Exploration and dereliction.
I've always had a passion for creating art, studying art and design during my school years and spending much of my time watercolour painting. After a brief love affair with playing rock guitar, photography was to be the next step in my creative life and I haven't stopped since.
My photography has always been a continuous journey, constantly trying to gather as much information as I can to help push my photography to new levels and explore new avenues of creativity.
I love sharing the things I have learned and over the past few years
I have been an active committee member of a local camera club, giving occasional tutorials on photo skills and basic Photoshop techniques. I am also the proud winner of 'The Portman cup' for 'Best Image of 2010′ at the Sussex Photographic federation's Projected Digital Image competition.