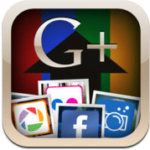 Are you one of the 40 million or so who are on Google+? If so, you might want an easy way to import photos from your Facebook, Flickr, Instagram or Photobucket feeds to one of your Google+ albums.
As you may know, Google+ has an application that allows you to instantly import your Android phone photos to your Google+ album. You're right. Why would you know that? If you are reading this review you are likely an iPhone user.  But for what it's worth, they do.
Google Plus Photo Importer by Dropico can let you accomplish the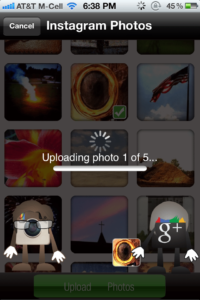 same thing…only better.
Just allow Google Plus Photo Importer to access your Facebook, Flickr, Instagram, and/or Photobucket accounts. Click on the appropriate icon, and select your photos to import. You then select the folder to which you wish to add your photos and choose upload. Yes, it's that simple.
I use it to upload some of my favorite iPhone shots to an album called iPhone Photos on Google+. You can find me here on Google+.
If nothing else, it is worth downloading for the cool animation that they use when transferring the files. It costs 99 cents and is available in the iTunes App Store.
Check it out!
All the best…Mike
*The Current Photographer website contains links to our affiliate partners. Purchasing products and services through these links helps support our efforts to bring you the quality information you love and there's no additional cost to you.