Archive for Friday Business Challenge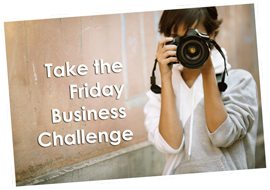 A huge thank you to everyone who participated in the Friday Business Challenge bought to you by Current Photographer and Today is Different. Did you miss the 7 weekly challenges? If you did it's not too late to go back and check them out?
So if you stayed with us, how did you go with the challenges? We'd love to hear your comments. If you are saving them up for a rainy day, that's cool as well!
If you particiapted in the challenges and want to see more from me at Today is Different pop on over, have a look around and get a free marketing promotions planner if you subscribe. Read More→