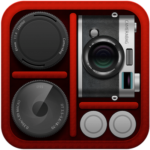 February 2, 2012 – PRESS SUMMARY – Nevercenter released CameraBag 2 for Mac and PC, a desktop photo app with a whole new approach to photos. Redesigned from the ground up, CameraBag 2's new Analog Engine pairs a full suite of photographic tools with the high quality filters and vintage simulations the series is already known for. Its key innovation is a stunningly straightforward approach to layering, rearranging, and endlessly tweaking all of these effects in realtime. The 100+ fully-adjustable filters and 25+ professional controls CameraBag 2 ships with are only the beginning, forming the palette from which users create their own styles.
"The most common feedback we got from previous versions was that the user wanted greater control, without sacrificing CameraBag's straightforward, accessible nature," said Tom Plewe, Nevercenter's president. "We came up with a simple tile-based system which presents all the additional control from the new Analog Engine in a quick, intuitive way. Then we added full-screen Quicklooks and instant previews to emphasize a visual decision-making process. Instead of starting from scratch with a photo, you can compare a lot of great options, choose the very best one, and then start tweaking. And you never have to do the same work twice; once you create a new look or workflow, you just add it to the menu for next time."
Key Features
Choose from 100+ built-in styles and filters, or create and share your own.
Full suite of 25+ manual photographic tools including advanced curve editors.
Stunning new interface.
State-of-the-art image processing via the all-new Analog Engine.
Add any look you create to the toolset as a fully-adjustable filter.
32-bits-per-component color depth.
Non-destructive editing (active history).
Easy layering of styles and adjustments.
Quicklooks and hover previews for visual decision-making.
The Remix slider, which smoothly transitions between endless variations.
Large, precise controls.
Laptop-friendly design.
Batch saving.
RAW format and metadata support.
Freedom to Play
With CameraBag 2, you don't have to know what look you want to get started. CameraBag 2 lets you see all the possibilities at once: old-school instant film or modern high-contrast portrait, subtle color adjustment or complete artistic overhaul. Choose from side-by-side comparisons with the fullscreen Quicklooks, or get large, instant previews on mouseover; the emphasis is on creative exploration. Once you've chosen a filter, its components are all in the tray to tweak and adjust non-destructively with large, interactive sliders. The Remix slider in particular brings back the "happy accidents" of analog film, smoothly transitioning between infinite natural variations for each style.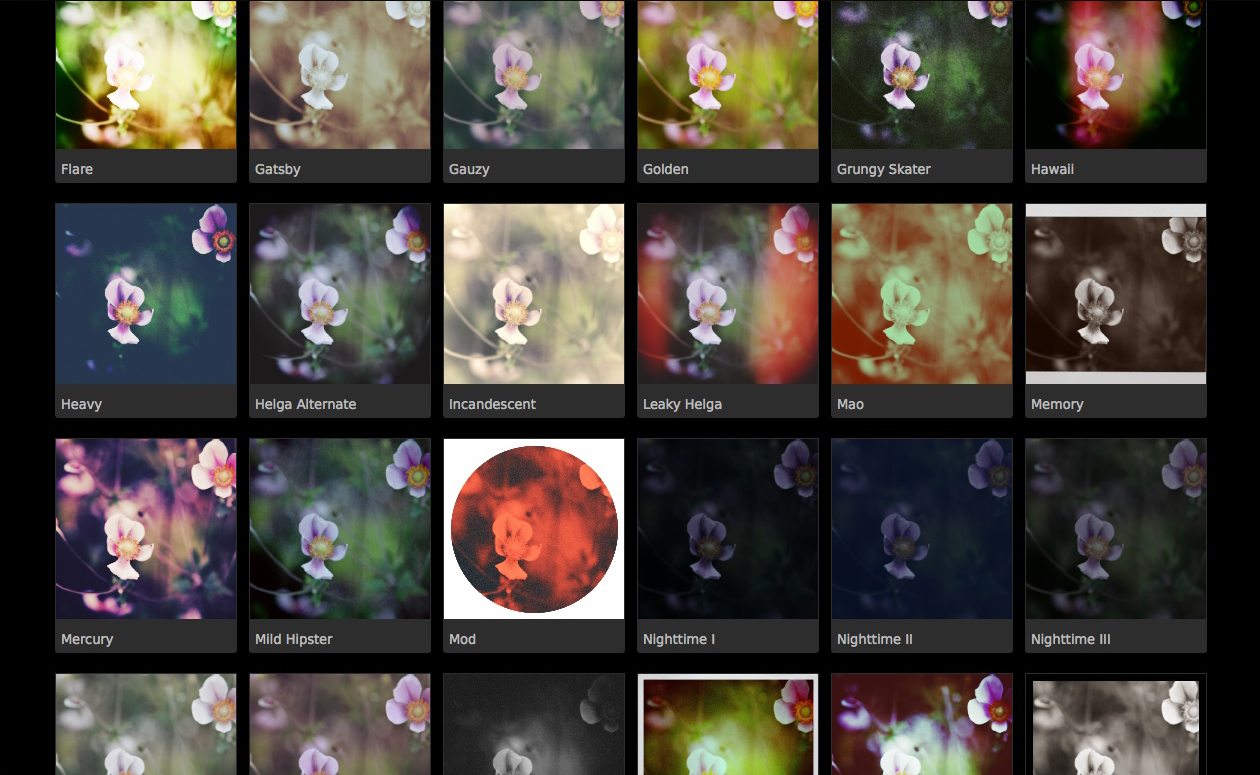 Advanced Control
The new CameraBag features a full suite of photographic tools, from simple exposure and cropping to advanced vignetting, color correction, and curves. The built-in styles also now have full control over their strength and variation. Since every adjustment appears as a tile in the tray, it's easy to see everything affecting the image at once, and rearrange tiles or edit amounts without compromising image quality. Adjustments and styles can be freely layered to create new looks, which can be saved right into the interface as new filters. Whenever a filter is loaded, the user once again has full control over all of its tiles.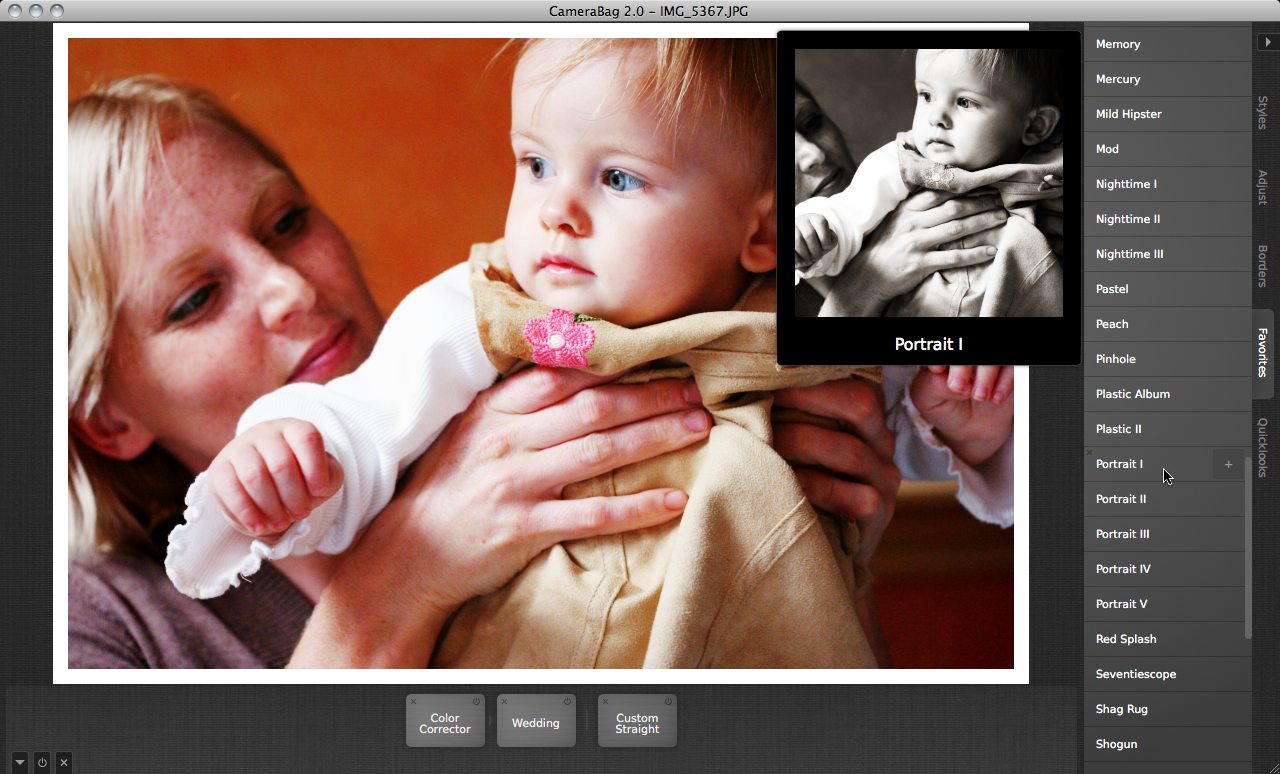 The Analog Engine
At CameraBag 2's core is the brand new Analog Engine: high-fidelity, 32 bits-per-channel, non-destructive, multi-threaded image processing. In other words, it's fast and smooth. CameraBag 2 matches the power of high-priced software, yet it's light on its feet and starts up instantly. Its old-school looks are particularly high tech: recreating the natural blemishes and random variations of the analog world is one of the hardest digital challenges, and that's where we've devoted much of our research. Even the most heavily-modified photos retain smooth, film-like colors (especially with the extra color information in RAW files).
Price and Availability
CameraBag 2 is available now for Mac and PC. A single cross-platform license is available at www.nevercenter.com for $29 (launch sale price: $24), and a Mac-only version is available via the Mac App Store for $24 (launch sale price: $19). A free, fully-functional 30-day demo is included in the download from www.nevercenter.com, where more info, tutorials, and videos can also be found.
The History of CameraBag
CameraBag was initially released as an iPhone app, climbing as high as #2 across all paid apps. The first version for Mac and PC – CameraBag Desktop – soon followed, proving that the concept scaled beautifully to high res photos. CameraBag 2 for Mac and PC is a gigantic step forward from both CameraBag iPhone and CameraBag Desktop on every front. It has been rebuilt from the ground up specifically for desktop computers, now including a full suite of photo tools, a whole new interface for finding and creating filters, ne­arly 10 times as many built-in looks, and a rewritten engine under the hood, all while maintaining the intuitiveness and approachable feel of the original app.
–
*The Current Photographer website contains links to our affiliate partners. Purchasing products and services through these links helps support our efforts to bring you the quality information you love and there's no additional cost to you.
Founder of Current Photographer, co-host of The Digital Photography Cafe Show, Designer, Photographer, and overall tech geek.