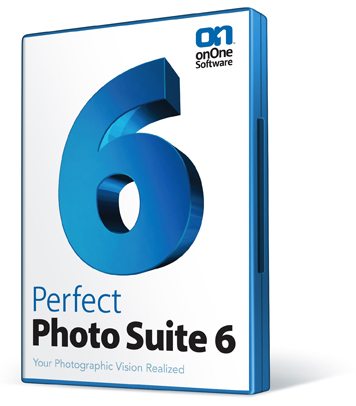 September 16, 2011 – PRESS SUMMARY – onOne Software, Inc., announced Perfect Photo Suite 6 along with new products Perfect Effects, Perfect Portrait, Perfect Mask, and an update to Perfect Layers. All products in the Perfect Photo Suite 6 now work as standalone applications in addition to working directly from within Adobe Photoshop Lightroom, Apple Aperture and Adobe Photoshop.
Giving photographers intuitive tools that work where they do, the Perfect Photo Suite 6 now offers solutions for photographic effects, portrait retouching, creating and working with multilayered files, replacing unwanted backgrounds, image resizing, depth of field control, and edge effects, in one affordable package. The Perfect Photo Suite 6 includes Perfect Effects 3, Perfect Portrait 1, Perfect Mask 5, Perfect Layers 2, Perfect Resize 7, FocalPoint 2 and PhotoFrame 4.6.
With this new version of the Perfect Photo Suite 6, photographers can now move effortlessly between individual applications within the Suite and have complete flexibility to use the products where they work. The Perfect Photo Suite 6 now operates not only as a plug-in for Photoshop but also as a standalone application. This additional functionality means that the Suite can be used directly within Lightroom and Aperture without the need for a separate host application as was previously required. Perfect Photo Suite 6 will continue to include full support for Photoshop CS5 and CS4 with many of the products now functioning as Smart Filters.
"We are extremely excited about Perfect Photo Suite 6," said Craig Keudell, president of onOne Software. "We have always set our sights on creating tools that help photographers create high quality images so that they can spend more time behind the camera or with clients, and less time behind the computer. With the release of the completely new products Perfect Portrait, Perfect Effects, Perfect Mask and the update to Perfect Layers, the Perfect Photo Suite 6 provides photographers with products that are even more intuitive to use, and that integrate seamlessly into their workflow, so that they can realize their photographic vision."
Perfect Photo Suite 6 includes full versions of the following onOne Software products:
Perfect Effects 3 (New!): Perfect Effects builds on the popularity of PhotoTools to provide an even faster and more powerful way to create images with impact. Perfect Effects 3 includes a complete library of professional photographic effects that can be previewed live, full screen, on an image before being applied. Perfect Effects 3 now includes blending options that provide even more control over how effects are combined and applied.
Perfect Portrait 1 (New!): Perfect Portrait is a completely new product that offers the latest innovations in portrait retouching for photographers. Photographers can now focus on the art of retouching and portrait creation because the most time consuming tasks have been automated in Perfect Portrait. Perfect Portrait automatically finds faces and features in images so that photographers can get directly to the work of retouching and enhancing an image. Improving skin texture and color, removing blemishes and enhancing features like eyes, lips and teeth have never been easier.
Perfect Layers 2 (New!): Perfect Layers allows photographers to combine photos for endless creative options. Create and edit multi-layered files with Perfect Layers directly from Lightroom and Aperture, or as a standalone application. All Perfect Layers files can be edited in Photoshop later. Perfect Layers is the heart of the new Perfect Photo Suite 6.
Perfect Mask 5 (New!): Perfect Mask 5 is the next generation of Mask Pro, the leading software for background replacement. Perfect Mask takes the core strengths of Mask Pro to another level, by automating many common masking tasks with incredible accuracy. Perfect Mask's new masking technology makes selecting subjects and isolating backgrounds surprisingly easy. With Automatic Background Removal, an initial mask is made on the image and can then be fine-tuned using the Erase and Refine Tools. With these new features, high quality masks can be created in just a few clicks. Perfect Mask 5 makes masking tough subjects like hair and glass on complex backgrounds easy.
Perfect Resize 7: Perfect Resize 7—powered by Genuine Fractals—is the industry standard for image resizing. It is renowned across the photographic and printing industries for its ability to increase image size well over 1000% without the loss of sharpness or detail that is normally expected. The patented, fractal based interpolation algorithms work like nothing else and the results speak for themselves.
PhotoFrame 4: Add the perfect finishing touch to images and layouts with PhotoFrame. With over one thousand design elements like film edges, borders, textures, backgrounds and adornments, PhotoFrame 4.6 even has complete layouts where users can simply drop an image in and they are done. It is the easiest and fastest way to add an authentic darkroom touch with a film edge or to create beautiful albums or scrapbook pages.
FocalPoint 2: Like bringing the camera lens inside Photoshop, FocalPoint 2 gives photographers the best way to add the most realistic depth of field and selective focus control to any image after it is photographed. Photographers now have an incredible amount of flexibility and control over the look of the blur with FocalPoint 2's new blur algorithm, FocusBrush, Lens Presets and multiple FocusBug features.
Availability
The new Perfect Photo Suite 6 will be available in late October 2011. Owners of the Perfect Photo Suite 5.5, Plug-In Suite 5 or earlier versions, can upgrade to Perfect Photo Suite 6 for $149.95. Perfect Photo Suite 6 is available to new users for $299.95. Customers who own one or more of the products in Perfect Photo Suite 6 will be able to upgrade as well by visiting http://www.ononesoftware.com/upgrade. For more information on the Perfect Photo Suite 6, please visit http://www.ononesoftware.com.
For those that have purchased the Perfect Photo Suite 5.5 on or after August 7, 2011, onOne Software will issue a complimentary upgrade to the Perfect Photo Suite 6 via download when it is available in late October 2011.
–
*The Current Photographer website contains links to our affiliate partners. Purchasing products and services through these links helps support our efforts to bring you the quality information you love and there's no additional cost to you.
Founder of Current Photographer, co-host of The Digital Photography Cafe Show, Designer, Photographer, and overall tech geek.