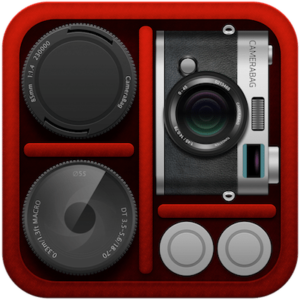 The original CameraBag was one of the first style and edit apps, not only on Mac, but on iPhone too. It was well built, and performed well, but since then it has been trumped by FX Photo Studio Pro (see my review) in this category. Now, however, the folks at NeverCenter have come back fighting, with their new offering, CameraBag 2.
CameraBag 2 is a slick looking app, but pretty looks aren't the main feature of this app. Editing is conducted using impressive 32-bit processing, RAW is supported, and editing is non-destructive – all high-level features, aimed at the serious photographer. CameraBag 2 includes 100+ filters under the Styles tab, but far more important than this are the editing controls under the Adjust tab. Here you find the standard fare of contrast, saturation, exposure and so on, but additionally, more higher-level controls, such as RGB and luminance curves, selective saturation and grain. When these are used in conjunction with the adjustable inbuilt filters, almost any effect is achievable. What is striking is the quality of manipulated images, thanks to the 32-bit processing; this app produces classy, print quality pictures.
The preset filters that come with CameraBag 2 are very nice, both in terms of quality and quantity. Most are based on various print or film types and techniques, and are (in my opinion) very stylish. Examples include "Cyanotype," "Leaky Helga" and "Super 1962."
Under the Borders tab are a dozen styled frames, as well as the ability to add a custom frame (colour and size are adjustable). The preset frames are mostly styled on retro film characteristics ("infiniti 50" and "35mm bleed" being examples). It would have been nice to see a few more options in this category, as some free apps I have tried offer a better range in this department (Pixlr-o-matic being a prime example).
Styles and borders can be "favourited", and these favourites can then be accessed on a separate list – an advantage over Photo FX Studio Pro.
In all, the latest incarnation of the CameraBag series is, like its predecessor, a highly polished product. It works smoothly and has some very high-level features. And in terms of its essential function – namely styling – there is no complaint from me.
Critically, however, when CameraBag 2 is compared to its nearest rival (which is not hugely dissimilar) – Photo FX Studio Pro – CameraBag 2 wins, not by knockout, but on points. Those points are namely 32-bit and RAW editing, and price. This, however, is a battle to watch in future editions of both of these apps.
You can download a 30-day demo of CameraBag 2 from NeverCenter's website, or purchase the full version for $18.99/£13.49 (currently 20% off full price) from the Mac App Store.
*The Current Photographer website contains links to our affiliate partners. Purchasing products and services through these links helps support our efforts to bring you the quality information you love and there's no additional cost to you.
Mark Myerson loves photography, and in particular, hanging around waterfalls! Landscapes and nature have always been his staple, but he relishes any opportunity to take pictures. He also works closely with many local charities, regularly providing photographic coverage of fundraising events.
Mark is also a self-confessed tech-head and OSX lover – Apple is his favourite fruit!
Mark is the owner of Mark Myerson Photography, a Devon-based business that provides a large variety of photographic services to the local community and beyond. Whilst Mark Myerson Photography specialises in event, commercial and pet photography, almost every type of photographic assignment has been covered by the company.
If you have any photography or OSX-related questions, you can contact Mark via the links given below.