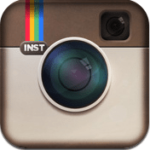 How did I miss this one? I had seen Twitter messages linked to the http://instagr.am web site and I thought they were cool, but somehow I missed what Instagram was all about. Thankfully, my 20-year-old son who is away at college clued me in to this one. So how do you describe Instagram? iPhone camera app? Filter preset app? Photo upload site? Social networking site? I would have to say "yes" to each.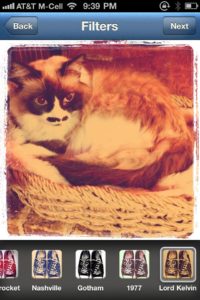 The thing that strikes me about Instagram is its ease of use. Since I have started using this app to upload my iPhone photos to Twitter, I have uploaded many more pics than before. It's so quick and easy that I would consider it effortless.
So here is how it works. There are five tabs at the bottom of the screen. The middle one, labeled "Share" allows you to take a photo using the front facing camera or main camera, or to select a photo from your camera roll. While you do not have access to zoom, you may turn the flash on, off, or on automatic. Once a photo is taken or selected, you move and scale to a square shape. You then apply filters. The next step is to post it to Instagram and to any or all of your social networking sites. The app currently supports sharing to Twitter, Facebook, Flickr, Posterous, Tumblr and Foursquare.
But that's just one tab. The other tabs include:
Feed – that lets you view photos of those Instagram users who you follow. There you may "like" or comment on a photo.
Popular – shows you the most popular photos trending at this time.
News – shows recent messages regarding who is following you and "likes" and comments on your photos.
Profile – provides access to your account settings, lets you find friends, and search Instagram.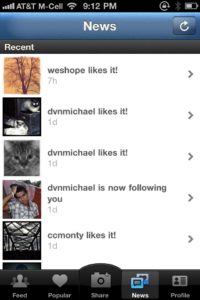 So what more is there to say? It's free! It's incredibly easy! And it's awesome!
If you are already on Instagram you can find me at manualdslr. I am posting lots of photos since I have started using this app. I only wish it would allow me to upload these to my Blogger account. (Hint, hint Instagram).
I've included some of the photos that I have taken with this app in the gallery below. I encourage you to check this super app out.
All the best…Mike
*The Current Photographer website contains links to our affiliate partners. Purchasing products and services through these links helps support our efforts to bring you the quality information you love and there's no additional cost to you.
A college administrator by profession, Mike Kennamer enjoys the opportunity to take photos and improve his skills by shooting events at work, church, and for friends. He enjoys landscape photography, portraiture and is starting to dabble in HDR. His current photography project involves learning to control flash manually. "My goal", according to Kennamer, "is to be the best photographer I can be."
Kennamer is also the President of Kennamer Media Group, Inc., a provider of traditional and online media, specializing in the healthcare industry. On CurrentPhotographer.com he writes about iPhone and iPad applications for photographers.